Ana Golematis, Licensed Funeral Director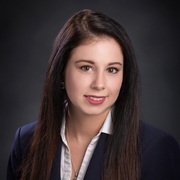 From the time she was young, Ana always felt she had a calling to enter a profession that would allow her to use her skills to better the lives of other people. After losing many friends and family members, she realized that funeral directors help not only families but entire communities of people grieving the loss of a loved one. Because of this, Ana now wakes up every day knowing that her actions are making a profound difference to someone going through these difficult times.
Ana chose to join the McCabe Funeral Home family because of the reputation it held within the community. It was clear to her from the beginning that McCabe Funeral Home puts families first, and she values and respects this mission above all else. She has stated that the professionalism within the firm is astounding and makes her feel proud to work here.
Ana believes her eagerness to learn new things is the biggest asset she brings to McCabe Funeral Home. She is a first generation funeral director and still fresh out of mortuary school. Because of this, she is excited and determined to learn everything she can to better serve families.