L. David McCabe: 1926 - 2016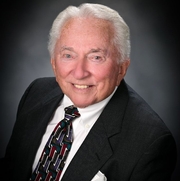 Loving son, devoted husband, proud father and grandfather, raconteur, man of the world, entrepreneur and community servant are just a few of the ways we might describe L. David McCabe. He was so many things to so many people that Dave truly defies adequate description.
Having entered this world on July 4, 1926, L. David McCabe could be called a "Depression Baby." Sharing a birthday with our great nation, he could also have been called a real "firecracker."
Clifford Lee and Evelyn (Dunn) McCabe cherished their son. Dave's only sibling, a baby brother, died shortly after birth. Clifford was the second owner of the McCabe Funeral Home, which had been founded by his father Francis J. McCabe. Since the family lived in the funeral home and Evelyn worked there, too, Dave was literally raised in the funeral profession.
Young David grew up in the historic Cork Town district, just west of downtown Detroit. He had close friends in Bob and Dixon Hall; they attended elementary school together and maintained a lifelong friendship. Even though Dave attended Cooley High School, everyone assumed that he had gone to Redford High because he enjoyed hanging out with so many of the Redford kids.
Actually, Dave did not graduate from Cooley High, opting rather to run away to Hollywood at the age of 17. Show business had always been his greatest passion and he felt that he must give acting a try. He joined the Screen Actors Guild. He participated in numerous stage, screen, radio and television productions and was, at one time, under contract to MGM. While he was in Hollywood, Dave met Bob Hope, George Burns and numerous "golden age" actors - meetings that he would cherish for the rest of his life. After several years of trying to make a living in entertainment, Dave returned to Michigan. He was hungry, broke, a little sadder, but much wiser. If he felt a bit like the Prodigal Son, he didn't let anyone see it. As the third generation to enter the funeral profession, Dave joined the McCabe staff in 1952.
Toward the end of his "Hollywood Dream", Dave and his roommate sold everything and booked passage on a cruise ship that was headed to Europe. It was on that fateful voyage that he met the love of his life, Gisela.
Gisela Kablitz and her sister, Christine, had escaped the ravages of the war with the help of their Mother, Eva by becoming exchange students in the United States. Gisela was on a return trip home to visit her family when the trio met. Gisela invited them to visit her in Germany, where they eventually arrived and were offered a room for the night in Gisela's family's apartment.
God had other plans for the young couple. When Dave arrived home from their trip, he informed his father Clifford that he would be going back to Germany and bringing back a new wife.
Imagine everyone's surprise when Dave returned from Germany with a bride! They celebrated their wedding again in the States with a lovely reception. The newlyweds settled into their first home on Sunderland in North Rosedale Park and Dave headed to Wayne State Mortuary School. Casey Kasem, renowned disc jockey and radio personality, was also a student at WSU at that time, and friends with L. Dave.
However, it was Dave's work as an entertainer that financed his studies at Wayne State. As the former star of radio's "Scoop Ryan: Cub Reporter," he taught a radio acting seminar at Wayne State University. Dave was also the radio voice of Bruster, the Goebel Rooster during the broadcasts of the Detroit Tiger games on WJR in the early 1950s.
Perhaps it was the birth of his first child, Kevin Lee, in 1956 that really focused Dave's interest on the family, family values and family traditions. After graduating from Wayne State in 1956, he moved his growing family to Glastonbury in North Rosedale Park. Dave received his Michigan funeral director's license in 1957, and went right to work for his father in the McCabe Funeral Home. He worked with his father until 1969, when he began the plan to move the funeral home from Grand River and Southfield in Detroit to its present Farmington Hills location. Dave designed the Farmington Hills Funeral Home, and with the help of childhood friends Bob and Dixon Hall, they turned Dave's dream into reality. Once only a satellite for McCabe, the facility opened its doors in January 1972. It has become the Headquarters of McCabe Funeral Home and still is to this date. Later, Bob and Dixon's sons built the addition in Farmington Hills as well as the McCabe Funeral Home - Canton Chapel.
In 1960, Dave and Gisela welcomed a beautiful daughter into their lives. Katrina Louise completed their family. Dave and Gisela were devoted and active parents. They participated in many of the Rosedale Park activities. For the June Day Parade, Dave helped the children decorate bikes and design and build floats. On Halloween, they trick-or-treated with the children. The children collected candy while the parents enjoyed plenty of "liquid refreshment." Christmas was a huge celebration in the McCabe household, observed on Christmas Eve, as it had been done in Gisela's homeland.
Dave became very skilled as a funeral director. He knew people and understood what they valued and they wanted. He remembered everyone. He was even able to officiate at services for the families who had no organized religious affiliations. When he had the ability to build his own funeral home, he knew that people recognized excellent craftsmanship. Dave highly valued quality and that was always evident.
Expanding his commitment to the funeral profession and to his community, Dave became an active member of the Michigan Funeral Directors Association. He held key positions on the ethics and legislative committees and in 1964, he served as President of District 1, which encompasses the City of Detroit as well as Wayne County. In 1993, he served as secretary of the MFDA. In addition to being the Chairman of the Board of McCabe Funeral Home, Mr. McCabe served on the boards of numerous civic organizations, as well as being an active member of the Farmington/Farmington Hills Chamber of Commerce and the Canton Chamber of Commerce. As a trustee for the Readings for the Blind, he served as president of that organization. He and Gisela gave their hearts and souls to the betterment of their community.
Dave kept up his membership in the Screen Actors Guild to pick up bit "gigs" here and there including industrial films and even a GM commercial, but most of his acting was limited to local performances. He acted with the Rosedale Park Players and the Farmington Players Barn group and was actively involved on their boards and in fundraising activities. The number of plays Dave performed in over the years covered a vast amount of genres and are too numerous to mention. Dave had a passion for performing. His creative talents were not restricted to acting. Along with Burt Stoddard, Dave co-authored a novel about life in a fictional New England factory town, entitled "Warty Frog Number Two."
Did anyone ever count the times Dave would ask, "What was that?" when the automatic icemaker would drop a load of cubes into the storage bin? Or who will forget his favorite saying, "Them are the vicissitudes of life!"? What a marvelous vocabulary he had.
Dave and Gisela loved to travel the world. Every year, four weeks were set aside from their busy lives for vacations: two weeks with the children and two weeks that were just for Dave and Gisela. As a Tour Guide, Gisela's mom Eva ("Mutti") would frequently join them in their travels through Europe. They were frequent travelers in and throughout the Caribbean.
As the kids grew older, Bob and Pat Hall, Joseph and Terri Bileti and others often traveled with them in sojourns that included visits to South Africa, Germany, Spain and England. The McCabe's were once guests of the king of Morocco. They enjoyed the sights, sounds and tastes of such exotic locations as Zimbabwe, Botswana, Australia and New Zealand. They loved the lush vistas of Hawaii and historic castles of Europe.
Closer to home, Dave and Gisela bought a get-away place in Charlevoix in 1984. They loved to spend the New Year's holiday in the Boyne City/ Charlevoix area with their friends, celebrating with progressive dinners. As the years progressed, however, they began to look for a warmer destination for winter trips. In 1993, the McCabe's purchased a home in Fountain Hills, AZ, where they would spend the first four months of each year.
Dave and Gisela loved the game of golf and they played it together all around the world. Dave was an excellent golfer and he continued to play as often as he could until 2015, when his health prevented him from indulging in the sport. Dave and Gisela's love of golf and social activities led them to become life members of Meadowbrook Country Club, where Dave was able to enjoy the club for 60 years.
Dave continued to help his children. He even assisted his son-in-law Larry in building an addition for their family's house on Brittany Drive in Farmington Hills.
When grandchildren came into their lives, Dave insisted that he was still too young to be a Grandpa. He wanted the grandkids to call him Dave. That is when Gisela's German heritage took over and Dave became known as "Opa" (the German word for Grandpa!). He would read the narrative of the birth of Christ from the Book of Luke to Samantha and Ryan every Christmas Eve. In later years, the children would read it to him.
As the years went on, Dave faced one challenge after another. In 1999, he lost his one great love, Gisela. He loved her from the moment he first saw her. She was his soul mate and he never got over the loss. In 2015, when Dave suffered a stroke, his life was altered again. He never thought that he would die, so he just faced what life gave him and worked through it all.
After Gisela died, Dave received a lot of support from his friends and family. He could call someone and ask, "What're you doing for lunch?" Within a half hour, he would get picked up at the end of his driveway and be whisked away by three or four of his buddies for lunch, dinner, or even breakfast. They became known as the "End -of-the-Driveway Gang." He also enjoyed spending time with the ladies. They loved his soft heart and his sensitive nature, not to mention his gorgeous light blue eyes!
Dave loved life and he loved people. His greatest joy in life was being able to do what he wanted to do. If he felt that you didn't like him, he would go out of his way to make you like him. He reveled in the appreciation of those around him. None of that diminished after his stroke. He was still a big personality and people continued to enjoy his presence and his energy.
Dave had always been a snappy dresser. He believed that clothes made the man and he paid close attention to every detail of his appearance. He always wore a hankie and a tie. The stroke made him realize that clothes, riches, winning the lotto (He was forever chasing rainbows!) and impressing the ladies didn't really matter as much as the love of his family. In fact, the last thing that he said to his son Kevin was, "I have a wonderful family."
The McCabe Family is very grateful and appreciative of the support, visits, and care that Dave received from his friends and caregivers while in the memory care facility.
L. David McCabe passed away on August 1, 2016, surrounded by his loving family. Mr. McCabe had recently reached the milestone of 90 years. He was the devoted husband of the late Gisela McCabe, the beloved father of Kevin (Sandy) McCabe and Katrina (Larry) Walker, and the very proud "Opa" of Samantha and Ryan Walker.