Sandra J. McCabe, COO / Owner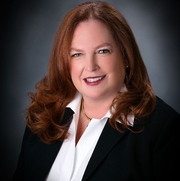 Sandy McCabe loves her job. Not always able to put it into words, she knows that the driving force that led her to funeral service is the same that keeps her there, and has never made her want to leave.

Sandy McCabe was born in West Detroit, the sixth of seven children. While a young girl, the family moved to Redford. At that time, homes were being built for WWII veterans and her parents had one built for them. Sandy attended Stuckey Elementary School, and graduated from Pinckney High School, after the family moved to Pinckney in her junior year. After graduation, she worked with her mother at Botsford General Hospital. In 1981 the hospital went through a period of massive layoffs and Sandy was without the job she loved.

A friend who happened to work at the Detroit Chapel of McCabe Funeral Homes, offered her a job. It was there Sandy was introduced to Kevin McCabe, a few years later they married in 1986.

In 2004 Sandy's life took a different path. She was diagnosed with cancer. However, that wasn't going to stop her. The doctors suggested once in remission a kick boxing class would help her bone structure. Sandy became a Tae-Kwon Do Martial Arts student in the fall of 2004. After a long journey Sandy earned her most cherished Black Belt on June 29th, 2007. To fellow Instructors and students, now known as The Honorable Lady McCabe, she has achieved the rank of First Dan Desided in Tae-Kwon Do. Lady McCabe is now the owner of Sidekicks East. Having with her the Honorable Mr. Yaggi and the Honorable Mr. Schilling as fellow Instructors in her Do-Jang.

A person who truly loves her work, Sandy works diligently to provide the compassionate service that all families deserve.