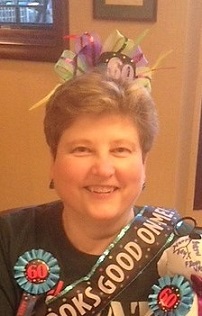 Lesley Ann Scherer
April 25, 1955 - October 20, 2017
Lesley Ann Scherer died in her West Bloomfield, Michigan home on October 20, 2017 following her two year battle with cancer. She was 62.
Lesley was born on April 25, 1955 to her parents, Jacob P. and Lucy C. Scherer of Benton Harbor, Michigan. She attended Michigan State University where she was a member of the Zeta Tau Alpha sorority. She remained a passionate Spartan fan throughout her life. After receiving her Bachelor's Degree, she joined the American Motors Corporation as District Manager for their Kansas City Zone office. She remained with American Motors and its successor, Chrysler Corporation, through several promotions and relocations until her retirement as an executive within the automaker's finance unit.
Lesley's deep Michigan roots included ownership of a summer cottage in Sister Lakes, Michigan where she kept a stable of adult "water toys" for her guests to enjoy on warm summer days.
Lesley is survived by her loving wife Elaine; her sister Stacy Frantz of Northbrook, Illinois; her brother Peter (Linda) Scherer of Newport Beach, California; nephew Peter A. (Jennifer) Frantz of Point Pleasant Beach, NJ; nephew Jake P. (Chloe) Scherer of Scottsdale, Arizona; and four grandnephews and a grandniece.
A Memorial Service will be held on November 15, 2017 at the McCabe Funeral Home, 31950 W. 12 Mile Road, Farmington Hills, MI 48334. Visitation will begin at 11:00 am with the Memorial Service following at 12:00 noon. All are welcome to attend and celebrate Lesley's life. Friends may share memories and condolences at www.mccabefuneralhome.com In lieu of flowers, as a life-long dog lover, Lesley asks that donations be made to the Michigan Humane Society shelter near you.