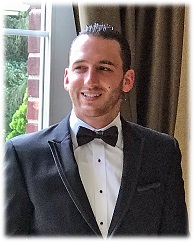 Antonino T. Gordon
August 20, 1989 - April 10, 2018
Antonino T. Gordon, age 28, died April 10, 2018.
He was the beloved husband of Nita Gordon. Cherished son of Timothy and Victoria Gordon. Dear brother of Alexandros Gordon and uncle of Dino and Nikko. Loving grandson of Beverly (the late Thomas) Gordon and Thomas and Helene Petcou. Nephew of Steve Gordon, Doug (Ann) Gordon, Mark Gordon, Maria, and Alexandros Petcou. Son-in-law of Hana Malaj. Also survived by his grandfather and grandmother-in-law Stjefan Dedvukaj and Aga Dedvukaj. Aunts and uncles-in-law Joe (Ilda) Dedvukaj, Tony Dedvukaj, Luigi (Violeta) Dedvukaj, Zef (Tricia) Dedvukaj, and John Dedvukaj.
Visitation will be held on Saturday from 4:00 p.m. until 8:00 p.m. and Sunday from 2:00 p.m. until 8:00 p.m. at McCabe Funeral Home, 31950 W. 12 Mile Rd., Farmington Hills. Nino will lie in state on Monday at 9:30 a.m. until the time of the funeral at 10:00 a.m. at St. Paul Albanian Catholic Church, 525 Auburn Rd., Rochester Hills. Burial will follow in Resurrection Cemetery, Clinton Township.