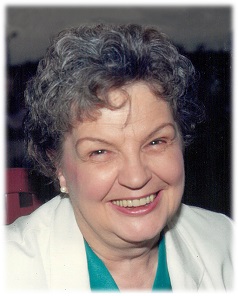 Thérèse F. Ruwart
February 17, 1931 - May 10, 2018
Thérèse F. Ruwart (née Boisclair), age 87 of Roseville, Minnesota and formerly of Farmington Hills, Michigan, passed away peacefully May 10, 2018. She was the beloved wife of the late Thomas. Loving mother of Liliane, Thomas (Kara), Catherine (Michael), and the late Matthew. Proud grandmother of Peter (Jess), Therese (Michael), Matthew (Monique), Gabriel (Kaitlyn), Kaylene (Jeremy), Thomas, Tara (Blake), and Jessica (Cody). Great-grandmother of Riley and Kate. Dear sister of Margo (Karl). Preceded in death by 6 sisters and 3 brothers.
Thérèse was born and raised in Iberville, Québec, the 7th child of 11 born to Liliane Poulin and Maurice Boisclair. Her first language was French Canadian. She attended Rivier College in Nashua, NH so that she could learn English. After a couple years, she entered the convent of La Présentation de Marie as a novice. However, due to a serious illness, she was discharged from the convent and sent home to recuperate. After meeting a woman in the hospital who was an airline stewardess, Thérèse decided to become one herself, and traveled to New York City with her sister, Margo, for training. She was hired by Eastern Airlines as a stewardess and was based in Charlotte NC and Miami FL. On one of her flights in July 1955, she met her future husband, Tom, who was in the Air Force and based in Florida at the time. Tom became smitten with the pretty stewardess and after a year of dating long distance (both based in different cities), they were married on August 20, 1956. While Tom studied to be a civil engineer at University of Detroit, Thérèse worked for the University of Detroit in the copy room. They had four children – 2 boys and 2 girls. When the children were teens and older, Thérèse started working at Crowley's Department Store in Farmington Hills, MI, working her way up to Management. She loved music and had a wonderful voice. She sang in the church choir as well as in a community choir, the Farmington Singers. In 2013, she moved from Michigan to Minnesota where a daughter and a son lived.
Visitation for Mrs. Ruwart will be held on Saturday, May 19th from 10:00 a.m. until the time of her funeral service at 11:00 a.m. at McCabe Funeral Home, 31950 W. 12 Mile Rd., Farmington Hills. Burial will follow in Holy Sepulchre Cemetery, Southfield.