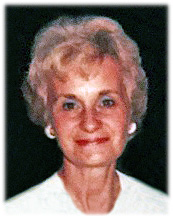 Audrey Staples
December 14, 1930 - July 3, 2018
Audrey Joyce Staples, age 87 of Franklin Michigan, died on July 3, 2018. After a brief illness, she passed away at home in the loving care of her family.
Audrey was born on December 14, 1930 in Granville, Wisconsin to Arthur and Verenie Olson. She attended Cooley High School in Detroit and worked in accounts payable for The Herman Frankel Organization for over 20 years. Audrey had a great love for animals and nature and loved feeding the birds. She also spent many years volunteering at the Humane Society of Pinellas County in Largo, Florida. She had a very loving and sweet disposition and was always ready to help anyone in need. Audrey was preceded in death by her husband of 55 years, Donald Edward Staples, her sister Beverly Hubbard and her brother Arthur Olson Jr. She is survived by her three children, Teri Staples, Kraig Staples and Leslie Frick (Mark). She is also survived by her six grandchildren, Geoff Cowen, Jordan Cowen, Karrie Staples, Kayla Frick, Kristen Frick and Andrew Frick.
Inurnment will take place on Monday, September 24, 2018 at 1:30 p.m. at Great Lakes National Cemetery in Holly, Michigan.
Donations in memory of Mrs. Staples may be made to; Michigan Humane Society (www.michiganhumane.org) or the American Cancer Society (www.cancer.org).