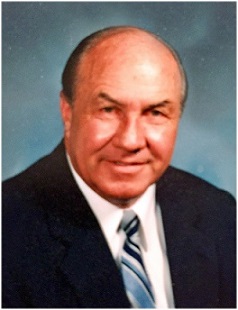 Donald Staples
November 29, 1929 - July 4, 2010
Donald Edward Staples, 81, of West Bloomfield Michigan passed away on July 4, 2010. Donald was born on November 29, 1929 in Detroit Michigan to Paul and Anna Louise Staples. He graduated from the University Of Detroit Jesuit High School and Academy in 1947 where he was a member of the varsity football team. Donald Graduated from the University of Detroit's College of Finance in 1957 with a Bachelor of Science degree. He continued to play College football where his team won the Missouri Conference Championship.
On August 23,1951, Donald enlisted into the United States Navy. He trained at Camp Moffet at Great Lakes, Illinois and then headed to Japan five months later on January 21, 1951. He was stationed on the destroyer USS Stickell (DD888) which patrolled the coast of Korea to protect troop ships from enemy submarines. Donald received an honorable discharge on June 18, 1953 along with a China Service Medal, a Korean five star Service Medal and a United Nations Medal.
Donald's professional career began in 1955. He was hired on by the General Motors Company where he worked in the General Accounting Department of Cadillac. After several assignments, in 1963, he became Staff Head of General Accounting. In 1973, he was named Cadillac's Assistant Divisional Comptroller and moved to the Guide Lamp Division in Anderson, Indiana. In 1977, Donald was transferred to the Electromotive Division in LaGrange, Illinois and in 1978, he was promoted to Assistant Comptroller of General Motor's financial staff. He later became Divisional Comptroller of the GM Assembly Division (1983) and finally was named Comptroller of Budgets and Forecasts for the BOC group. Donald retired from General Motors in 1992 and after a dedicated 37 years, he had a career to be proud of.
During his retirement, he worked tirelessly on his model train hobby and had quite an elaborate set up. He also enjoyed spending time at his cottage in northern Michigan as well as at his winter home in Clearwater Florida. While in Florida, Don loved fishing with his friends and walking the beach. He also became a security guard for the Tampa Devil Rays. Donald was quick to help his family and friends and was extremely knowledgeable on how to fix things and on how to get things done.
Donald was preceded in death by his sister Norma Jean Foley of Newport Beach California. He is survived by his wife of 55 years, Audrey Joyce Staples. He is also survived by his children, Teri Staples, Kraig Staples and Leslie Frick (Mark) as well as his grandchildren, Geoff Cowen, Jordan Cowen, Karrie Staples, Kayla Frick, Kristen Frick and Andy Frick. He was a loving Husband, Father and Grandfather and is greatly missed by his family and friends.
Inurnment will take place on Monday, September 24, 2018 at 1:30 p.m. at Great Lakes National Cemetery in Holly, Michigan