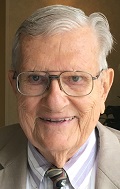 John J. Keane, Jr.
September 27, 1929 - September 21, 2018
John J. "Jack" Keane died peacefully on September 21, 2018 following a brief battle with lymphoma. Jack was born in Holyoke, Massachusetts on September 27, 1929. He is survived by Lois, his wife of 63 years, and five daughters; Colleen (Gerry) Spencer, Mary Ann (John) Dunham, Patty (John) Bruder, Katie ( Bob) Zendler, and Molly Keane Sexton; nine grandchildren; Kathleen (Chris) Bruder Babuska, Daniel Bruder, Jack and Peter Plasters, Erin and Brendan Spencer, Bridget, Joe and Patrick Sexton; and one great grandchild, Lily Babuska; his sister, Shelia Miano and numerous nieces and nephews. Jack was preceded in death by his parents, Mary Driscoll Keane and John Keane, and his siblings Terry, Kevin, Judy and Denise.
Jack was devoted to his family and all the world was his friend. He had been an active member of the St. Bede's Dad's Club and was a long time usher at St. Owen Catholic Church. Following his retirement, Jack pursued a lifelong passion and became a master gardener. He was also an enthusiastic 20-year volunteer at William Beaumont Hospital in Royal Oak. Jack loved sports, especially hockey and golf, and was an avid fan of any sport that featured one of his grandchildren.
The family will receive visitors at McCabe Funeral Home, 31950 W. 12 Mile Rd., Farmington Hills on Monday, September 24, 2018 from 4:00 – 8:00 P.M. with a Rosary at 7:00 P.M. He will lie instate on Tuesday, September 25, 2018 at 10:30 A.M. until the time of the funeral mass at 11:00 A.M. at St. Owen Catholic Church, 6869 Franklin Rd., Bloomfield Hills.
In lieu of flowers, the family asks that any donations be made to the University of Detroit Jesuit High School and Academy or an organization of the donor's choice.