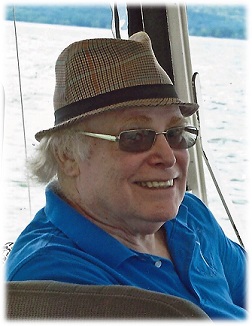 Zachary S. MacLean
September 12, 1947 - September 29, 2018

Zachary Stewart MacLean was born in Detroit, Michigan on September 12, 1947. His parents were George Edward Stanley MacLean and his wife Cecile, maiden name of Ploshnick. His father was a truck driver and member of a country western band. His mother was a housewife, later getting a job as a postal worker. They had five children: Joanne, Larry, Clara, Zachary and Bernice. His family grew when his half brother David Smith was born, after his mother remarried.  Many years later his half-brother Richard MacLean joined his siblings, through his father's remarriage.

As a young man, Zack became father to Eric MacLean, through a marriage to Sandy Ellis.
Then he married Cheri Fairchild in 1975, with whom he celebrated 43 years of marriage. His marriage took place in St. Matthews Methodist Church, Detroit, followed by a reception at Fox and Hounds in Bloomfield Hills, with a short honeymoon in Toronto, then a long summer vacation at Disney World (his dream vacation). Through his marriage to Cheri, he happily became the proud father of Zachary Stewart MacLean, Jr. (Stewart), Tiffany Lynn MacLean, Christina Marie MacLean and Andrew James MacLean.  He, with Cheri's aid, also stood as a temporary father figure to Althea through guardianship and to Christof as an exchange student host.

As far as his childhood, Zach could not remember anything about his youth, only remembering his years as a teenager and later. Especially happy family memories were visiting his Aunt Honey's cottage, where his large extended family gathered each summer in reunion.

The person who was the most influential and who he always said changed his life, was his 8th grade counselor at school. That counselor took him aside and asked him what he wanted to do with his life, which in 8th grade he had not really thought about. As background information, Zack's father had disappeared when he was around five years old, so his family had been reduced to living in the infamous government housing project Herman Gardens, in Detroit. His counselor told him that he was too smart to waste his life by joining a gang, the likely outcome of attending his local high school. Instead, his counselor suggested he apply to Wilbur Wright High School, a trade school. He took that sage advice and loved attending Wilbur Wright, where many lifelong friendships were forged. He studied Electronics there, which laid the foundation for his career.

In his teens, Zack took part in as many school activities as he could fit in his calendar. He was also a member of DeMolay and Habonim. He was a matchmaker even then, through a mutual friend setting up a meeting at a Habonim dance for his sister Joanne to meet Bernie, her future husband.

As soon as he graduated, he went into the Navy, where he was a Radarman. He was assigned to the USS Arneb, which was based in Norfolk, Virginia and was active in the Med. During this time they had traveled to Gibraltar, Barcelona, Sardinia, Marseille, Corsica, Naples, Livorno and Crete. After the Navy experience he returned to civilian life and his fledgling career in electronics.

His studies at Wilber Wright qualified him for a job as technician at WTVS (Channel 56). He also worked as an audio-visual electronics technician for the Royal Oaks Schools Board of Education. Then he attended RETS Electronics School, going on to become an instructor there in 1972. During that period he was also the head technician in TV repair at Dealer Electronic Services, where he gained management experience. Next he was hired by Control Data to teach Radio/TV, Electronics and Computer Technology/Repair. He became Head Instructor, coordinating the teaching staff in both Technology and Programming.  During this time he was also attending Siena Heights College, attaining his B.A.S. In Engineering during December 1976, with his graduation ceremony in spring 1977. He then gained two years of sales experience in placements, easily exceeding quota. He and his partner were number one in the U.S. both years. He was rewarded by a trip to Acapulco in 1979 and a trip to Bermuda in 1980.  He didn't like sales.  Eventually he left to be V.P. of Technology at a start-up company called Dental Office Computer Systems, then another small training company called Crambrook.

His career not fulfilling, he decided to return to teaching. He applied to two job openings for an Electronics Instructor and was accepted by both Cranbrook School and the William D. Ford Career Tech Center. He chose the Tech Center because he felt he could make more of a difference there. It was an excellent choice, because he truly found a home there. He also found Career fulfillment there, as he was able to help quite a few students, just like his 8th grade counselor had helped steer him straight so many years ago. He had many brilliant students he was so very proud to see succeed. He also loved to see his students take part in extra-curricular activities and to apply for scholarships and competitions, even when they thought they didn't have a chance. They often won. He loved the students. The faculty and staff grew to be like family to him. He enjoyed it there so very much that every year he decided to teach another, "just one more year". He was busy planning tweaks to his fall teaching,  but sadly his health gave out. He was grateful for all of the marvelous  people that had helped him give his students so many wonderful experiences, including many companies, colleges, SkillsUSA, RoboFest, IVD, MITES, MACUL, etc., and the Michigan politicians who stopped by to see their local students' booths or schools (which the students thought was awesome).

His greatest joy in life was his family. He loved his children dearly. He was always ready to play games, cards, build with Legos or play with other toys when they were young.  He was always enthusiastic and young at heart. He was a member of Franklin Community Church, head usher of his team. He was also a huge Mickey Mouse fan. A vacation to Florida to visit his mother and DisneyWorld occurred almost yearly, to everyone's delight. Other vacations started in New England, Williamsburg, Tennessee, Texas, Branson, or another place, but usually ended with Grandma and DisneyWorld. A big family vacation was to Japan to see Christina, tour the country, and visit Tokyo Disney and Disney Sea with good friends Shogo and Yuriko. It was Zack's second trip there, as he had been selected for a teacher's ambassador tour sponsored by Toyota in 2006. This summer the family vacation was to Hawaii, going to the four larger islands. Zack said he liked it even better than Florida and wanted to take more trips back there. He said that the only thing that was missing was that he would like to see a Hawaii Disney built there. He also loved all of the big family events like Christmas, Easter, Thanksgiving, reunions, birthdays, 4th of July and Memorial Day barbecues, or just getting together to play cards or Settlers. Once the children grew up, he and Cheri also took the week of Winter Break in February to return to Florida to visit his mother and other relatives each year. He was very happy and satisfied with the life he had built, except that it ended too soon. We will all miss him.
Zachary S. MacLean, age 71 of West Bloomfield, passed away September 29, 2018. He was the beloved husband of Cheri for 43 years. Loving father of Zachary Stewart Jr., Tiffany Lynn, Christina Marie and the late Andrew James. Dear brother of Clara Eichner, Bernice (Bruce) Ellis, the late Joanne (Bernie) Kaner, the late Larry MacLean. Half brother of David Smith and Richard MacLean. He was also father to Eric (Ann Marie), guardian of Althea, and exchange student host of Christof.
Visitation for Mr. MacLean will be held on Sunday, October 7th from 2:00 p.m. until 9:00 p.m. at McCabe Funeral Home, 31950 W. 12 Mile Rd., Farmington Hills. His memorial service will take place on Monday, October 8th at 6:00 p.m. at Franklin Community Church, 26425 Wellington Rd., Franklin.