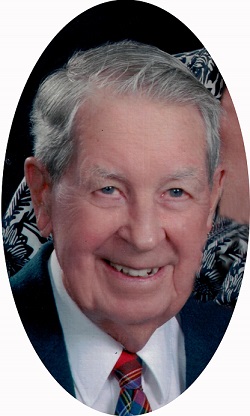 Earle H. Copp
- October 4, 2018
Mr. Earle "Zeke" Copp passed away Thursday, October 4, 2018 at Angela Hospice, Livonia, MI. He was born in Detroit, Michigan a son of Warren Fleming and Viola Mary (nee; Weiss) Copp growing up in Ferndale. On August 28, 1948 he was married to Frances M. Witkop in Lansing, MI.
Following graduation from Ferndale High School he worked for 2 years as a Tool & Die maker with Ford Motor Co. to earn money to attend MSU where he was a member of ATO fraternity. In 1943 his entire ROTC unit was activated into the war where he served as a sergeant in the European Theater. In 1945 while awaiting deployment home Zeke chose to attend Oxford University in England. There he was reunited with his best friend Dick Newburg. Upon his return to MSU he met his wife to be, Fran Witkop. Zeke went to work for Ford Motor Company following graduation as an accountant and left there for a career in computer sales. He retired as National Sales Manager with 3PM-McKeson. Zeke was an avid Michigan State Fan. In 1973 he was honored with his caricature on the MSU football programs that year. Zeke and Fran were recently honored by the MSU Athletic Department with a presentation of a game ball following a football game. Zeke and Fran were avid travelers having visited all 7 continents. Most of all Zeke will be remembered for his humor, quick wit and compassion.
Zeke is survived by his loving wife of 70 years; Frances M. Copp. Dear father of Richard "Hub" Copp and Mark (Peggy) Copp. Grandfather of Katie (Tim) Hachenski, Carrie (Brian) Kroes, Corey Copp, Casey Copp and 4 great grandchildren. A number of nieces and nephews also survive. He leaves behind his buddy of 75 years, Dick Newburg of Gainesville, FL and his family and his beloved Greg Conway family of Picnic Point, Australia along with a wealth of friends.
Visitation will be held on Tuesday, October 9, 2018 from 2 – 8 P.M. at the McCabe Funeral Home, 31950 W. 12 Mile Rd., Farmington Hills. Zeke will be instate at 10:00 A.M. until the time of the funeral services at 11:00 A.M. on Wednesday, October 10, 2018 at Antioch Lutheran Church, 33360 W. 13 Mile Rd., Farmington Hills, MI 48334
The family has suggested memorial contributions to either Antioch Lutheran Church or Angela Hospice in lieu of flowers.