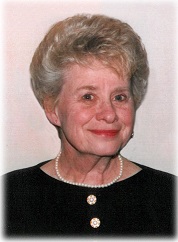 Georgenia Keoleian
April 2, 1934 - November 8, 2018
Georgenia Keoleian, age 84, passed away peacefully after a valiant thirteen-year battle with Parkinson's.
She was the beloved wife of the late Harry. Loving mother of Jeff, Gary (Jill) and the late Karen (Jay).
Georgenia was a friend to everyone and her love and faith set an example for us all.
Visitation will be held on Monday from 2:00 p.m. until 8:00 p.m. at McCabe Funeral Home, 31950 W. 12 Mile Rd., Farmington Hills. Georgenia will lie in state on Tuesday at 10:00 a.m. until the time of her funeral service at 11:00 a.m. at Northbrook Presbyterian Church, Beverly Hills. Interment in Woodlawn Cemetery, Detroit.
Memorial contributions may be made to Northbrook Presbyterian Church or the Michigan Parkinson Foundation.