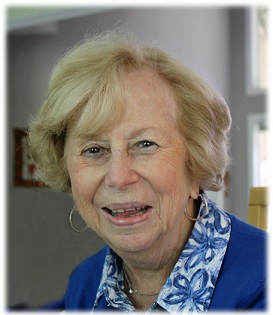 Martha K. Mullkoff
July 29, 1923 - November 19, 2018
Martha K. Mullkoff died peacefully in West Bloomfield on November 19, 2018. She was raised in Hamtramck, Michigan and earned her master's degree from the University of Detroit while raising three children. She had an interesting career working in schools as a teacher, guidance counselor and ultimately as the principal at Royal Oak Churchill Junior High.
She married the love of her life Arthur Mullkoff in 1948 after he returned from service in Asia during World War II. Their 66-year marriage set a record among family and friends. Together with Art, Martha traveled the world and lived life to the fullest. Nothing was more important to her than her family. Their Glen Arbor get-a-way was a wonderful staging ground for sharing time with her children and grandchildren.
Arthur pre-deceased Martha in 2015. She is survived by her three sons, Bruce (Jane), Brian (Nancy), Douglas (Kathy); six grandchildren, five great-grandchildren and numerous nieces and nephews.
A Funeral Mass will be held on Friday, November 23, 2018 at 10:30 a.m., with gathering starting at 10:00 a.m. at St. Fabian Catholic Church, 32200 W. 12 Mile Rd., Farmington Hills.
In lieu of flowers, memorial contributions may be made to the Capuchin Soup Kitchen in Detroit or the charity of your choice.