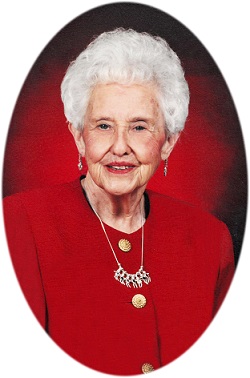 Beatrice Hoskins
September 17, 1921 - November 25, 2018
Beatrice Hoskins, age 97, passed away peacefully on November 25, 2018.
She was the beloved wife of the late Newt. Loving mother of Garry (Marty), Larry (Barbara) and Terry. Dear grandmother of Larry Jr., Lynne Schiffour, Garry Jr., Wendy (Jerry) Hoekstra, Amanda (Dan) Hilden, April (Bobby) Bryan, Andrea (Brian) Locke and Terry Jr. (Jamie). Proud great-grandmother of Payton (Tiffany), Lauren Bader, Ethan Schiffour, Hannah Hoekstra, Jordan, Sophia Hoekstra, Zachary Schiffour, Andon Locke, Coen Hilden, Ashlyn Locke, Kaycee Hilden, Cruz, Luke, Jobie and Silas.
Visitation for Beatrice will be held on Thursday from 5:00 p.m. until 8:00 p.m. and on Friday from 4:00 p.m. until 8:00 p.m. at McCabe Funeral Home, 851 N. Canton Center Rd., Canton. Her funeral service will take place on Saturday at 12:30 p.m. at the funeral home. Burial will follow in Knollwood Cemetery, Canton.