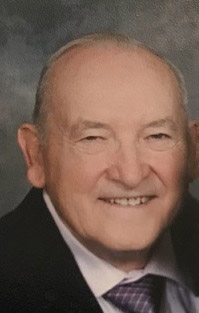 Adrian Armand Renaud
December 23, 1933 - January 14, 2019
Adrian A. Renaud passed away January 14, 2019 at the age of 85. He was the loving husband of Patricia for 55 years. Adrian is also survived by his siblings Leonard (Jeanne) Renaud and Alice Trotchaud; sisters-in-law Kathleen Renaud, Geraldine Trumpy, Marilyn Ryan, Elizabeth Ryan, and Kathleen Ryan; and his many nieces, nephews, and god children. He is preceded in death by his parents Rose and Raymond Renaud, Sr.
Adrian was born on December 23, 1933 in Windsor, Canada to Rose and Raymond, Sr. He graduated from Assumption University in Windsor and went on to become an educator. He retired from Belle River High School after 25 years of dedication as a teacher and guidance counselor. Adrian was a proud member of the Knights of Columbus and parishioner at St. Simon and St. Jude Parish in Belle River, Ontario. He also enjoyed fishing, golfing, playing cards with his many friends and spending time at the family cottage up north. Adrian's love and influence will be missed dearly.
Adrian's visitation will be Thursday, January 17th, from 3 p.m.-8 p.m. with a 7 p.m. Scripture Service at McCabe Funeral Home, 31950 W. 12 Mile Rd., Farmington Hills. He will lie in state Friday, January 18th from 10 a.m. until the time of his Funeral Mass 10:30 a.m. at St. Fabian Catholic Church, 32200 W. 12 Mile Rd., Farmington Hills. Interment will take place at Holy Sepulchre Cemetery in Southfield, Michigan. In lieu of flowers, memorial contributions are appreciated to Blessed Solanus Casey/Capuchin Friars, 1780 Mount Elliott Street, Detroit, MI 48207, in his name.