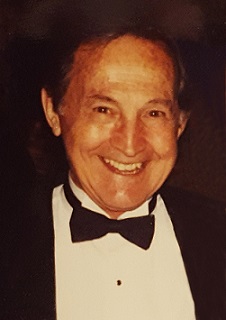 John V. Anticoli
November 25, 1918 - January 29, 2019
John V. Anticoli passed away January 29, 2019 at the age of 100. He was the loving husband of Emilia for 65 years; devoted father of Mariann (Daniel) Steinmetz and Juliette Anticoli (Gerald Wurmlinger); cherished grandfather of Matthew and John Steinmetz and Lia McCoy and dear brother of the late Victoria Anticoli and late Elda Zerbel.
John was a devoted husband, father, and grandfather. He enjoyed his home life and was very family focused. He adored his grandchildren immensely, always proud of their accomplishments. John was also an avid sports fan. He grew up working at Detroit Tigers Navin baseball field and as a teen, he met Babe Ruth and Ty Cobb. John graduated from Cass Technical High School in Detroit and became a skilled second baseman and centerfielder, playing American Legion Baseball and later was scouted by MLB teams. Unfortunately, due to circumstances, John was unable to pursue a life in baseball as he was needed to care for his mother and sisters. As time went on, he obtained a builder's license and built a home in Detroit. After building his home, he traveled to Italy where he met the love of his life, Emilia. John brought Emilia back to the United States to raise their family in the home he had built. John also excelled at math, often monitoring stocks, economics and business news. He worked as a draftsman for General Motors, technician at Michigan Bell, and finished his career as an engineer for Weltronic. John will be missed dearly.
Memorial Donations in Mr. Anticoli's name are appreciated to Michigan Urology Institute Men's Health Foundation, 419 Golf View Lane, Rochester, Michigan 48309 www.miumenshealthfoundation.org/donate/
Private family services will be held.