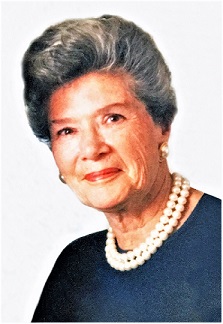 Eileen Mulroy
November 1, 1925 - February 6, 2019
Eileen Fitzgerald Mulroy, 93, died peacefully at her home in Bloomfield Hills on February 6, 2019.
Eileen was born in the Bronx on November 1, 1925 to Thomas and Margaret Fitzgerald and then moved as a toddler to the Detroit area which became her lifelong home. She was preceded in death by her beloved husband of 51 years - John Robert, her son Jim, her sister Rita Howard (Fran) and many other dear friends and family members. Proud Mother of John (Phyllis), Eileen Mikkelsen (Eric), Thomas (Karen), Mary Ann Townsend (Steve), Michael (Sharon) and Margaret Sparks (Doug). Very proud grandmother of John Robert (Kaitlyn), Brigid (Zaynib), Mara and Brendan Mulroy; Ryan, Moie, and Kathleen Mikkelsen; Sean and Megan Mulroy; Steve, Clare, Michael, and Kevin Townsend; Madalyn, Mary Grace, Elizabeth and Tom Mulroy; and Patrick, Shane and Kyle Sparks. Loving sister to Robert Fitzgerald (Donna) and Susan Hardwick (Patrick).
Eileen graduated from St. Mary of Redford High School and Marygrove College. She was a woman of great faith praying the rosary daily and lived her faith setting an unwavering example to her children, grandchildren, and others. A talented writer, her career accomplishments included technical writing for Detroit Edison and being named editor of the GM Tech Center newspaper, "Lab Notes". Eileen was an avid bridge player, a master of cross-stitch and a dear friend to many.
Visitation will be held on February 14, 2019 beginning at 2:00 p.m. and concluding with a rosary at 7:00 p.m. at McCabe Funeral Home, 31950 West Twelve Mile Road, Farmington Hills. A funeral Mass will be celebrated on Friday February 15, 2019 at 10 a.m. at the Church of the Transfiguration, formerly St Michael, 25225 Code Road in Southfield. Eileen will be lying in repose at the Church starting at 9 a.m. Memorial donations may be made to the University of Detroit Mercy, 4001 W. McNichols, Detroit 48221 or Dementia Society of America.