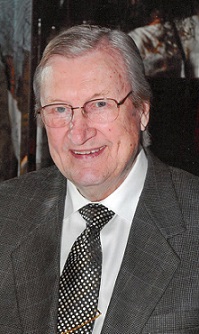 Jerry Wenklert
April 19, 1923 - February 14, 2019
Hans 'Jerry' Wenklert passed away February 14, 2019 at the age of 95. He was the beloved significant other of Joan Kazimierczuk for 25 years and husband of the late Elsie ('96); devoted father of Hans (Debbie), Linda (late Cap) Putnam, Julie Fischer, James (Stacey) and the late Jon Wenklert and cherished grandfather of Hans, Chase, Lisa, Anna, Joe, and Ivan. Jerry also lovingly leaves behind the children, grandchildren, and great grandchildren of Joan.
Hans 'Jerry' was born in Sweden and served in the Swedish Airforce during WWII. He later moved to the United States in 1949 at the age of 26. Jerry worked hard as a carpenter and helped build multiple homes. Following his carpentry, he found himself working for PECOR as a sales consultant. Jerry later bought and ran City Limits Bar & Grill in Detroit for over 33 years, retiring recently at the age of 93. He will be dearly missed.
Jerry's visitation will be held Sunday, February 17th, 2 p.m.-8 p.m. with his visitation continuing Monday, February 18, at 11 a.m. until the time of his Funeral Service 12 p.m. at McCabe Funeral Home, 31950 W. 12 Mile Rd., Farmington Hills. In lieu of flowers, Memorial Contributions may be made to the Friendship Circle in his name.