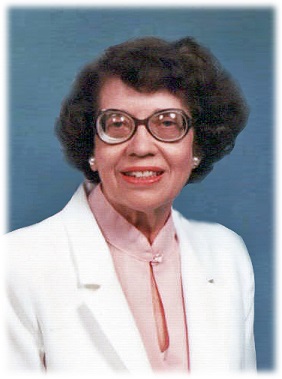 Margaret Shell
December 13, 1919 - March 3, 2019
Margaret Shell, 99, was born in Batesville, Arkansas, December 13, 1919, the daughter of Thomas Franklin and Annie Louise Shell. She passed away peacefully March 3, 2019, at her longtime home in Detroit.
Margaret attended Cushman High School, where she was gifted athlete and named an all-county guard on the basketball team. After time at Arkansas College, she started her career as a schoolteacher. She also served as the postmaster for her hometown of Cushman.
After moving to Detroit in the early 1940s, she gave up teaching and started a new career working as a timekeeper for Chrysler. She eventually joined her brother Lyman, working at the Shell Supermarket in Detroit, where she finished her working career.
Margaret was a devoted member of the United Methodist Church and served on many committees and the United Methodist Women. She was also a longtime volunteer at the Rosedale Park Players, where she helped create props for the many productions. She was a lifelong Detroit Tigers fan with a wonderful sense of humor and loved to laugh with her family and friends.
Margaret was preceded in death by her parents; two brothers, Lyman M. and Don Franklin; and sisters Tommie Jane (Howard) Tripp and Mary Lou Shell.
She is survived by sister Ann; sister­-in-­law Karen Shell; niece, Nancy (Joseph) Richards; two nephews, Don Franklin (Anne) Shell and Howard Franklin (Susan) Tripp; great­-niece Kristin Trame; and great­-nephew Danny Tripp; nephew-in-law Richard Trame, several step­-nieces and step-­nephews; as well as cousins Katherine (Earl) Tripp, Nina (Hugh) Insell, and many friends.
Funeral services will be held at 11 a.m. on Friday, March 8, 2019, at her church, Nardin Park United Methodist Church in Farmington Hills, Michigan. Visitation is scheduled for 3-8 p.m. Thursday, March 7 at McCabe Funeral Home, 31950 W. 12 Mile Road, Farmington Hills.
Graveside services will be held at Oaklawn Cemetery in Batesville, Arkansas under the direction of Roller-­Crouch Funeral Home of Batesville. Margaret is loved and greatly missed by her family and many friends.