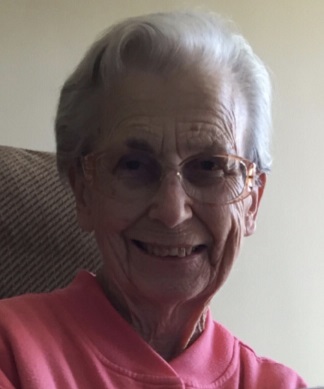 Corinne T. Browning
January 19, 1929 - April 17, 2019
Mrs. Corinne Theresa Browning passed away Wednesday, April 17, 2019 at Medilodge of Plymouth. She was born January 19, 1929 in Grand Rapids, Michigan, a daughter of Gene Edward and Agnes Ann (nee Hildebrant) Matthews. On October 11, 1952 she was married to Paul David Browning at St. Mary Catholic Church, Hazel Park, Michigan. Mr. Browning preceded her in death on January 8, 1986.
Mrs. Browning enjoyed scrapbooking and sewing. She had worked at Garden City Hospital as a nurse's aid for a number of years. Corinne was a founding member of St. Thomas a'Becket Catholic Church. She spent 20 years as a secretary at the church, retiring at the age of 80. She took great joy in volunteering at the church.
Mrs. Browning was the beloved mother of Kathleen (Paul) Bedford, Mary (Thomas) Poole, Suzanne (Daniel) Lentz and Patrick Browning. Loving grandmother of 11 grandchildren and 15 great grandchildren. Sister of Mary Lou Matthews. She was preceded in death by her husband, parents and sons; Kevin Michael Browning and David Gerard Browning.
Visitation will be held on Sunday, April 21, 2019 from 2 – 6 P.M. with 6 P.M. Rosary Service at McCabe Funeral Home, 851 N. Canton Center Rd., Canton, MI. The family will receive friends on Monday, April 22, from 10:00 A.M. until the time of the Funeral Mass at 10:30 A.M. at St. Thomas a"Becket Catholic Church, 555 S. Lilley Rd., Canton. Burial will follow at St. Joseph Catholic Cemetery, Whittaker, Michigan.