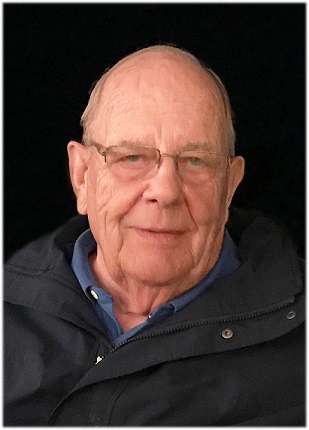 Gerard McMaster
May 5, 1933 - May 8, 2019
Gerard Hugh McMaster, age 86, passed away May 8th, 2019 surrounded by his wife and children.
Born in Detroit, Michigan on May 5th, 1938, the son of John and Elizabeth (Meagher) McMaster. He graduated from Holy Redeemer High School in 1951 and got a job at Cadillac Motor Car. He was drafted into the Army where he proudly served with his twin brother at Fort Leonard Wood for two years and shared the stories and lessons he learned there for a lifetime. He returned home and through the GI Bill attended University of Detroit College of Business where he met Joan (Schebil) his Rose of Delta Sig and the love of his life. They married on November 11, 1961 and had 4 wonderful children together. He graduated from U of D in 1962 and worked at Ford Rouge Credit Union, Michigan Bookbinding, was CFO of Panel Clip Corporation and retired as CFO from Dawson Industries. He enjoyed retirement so much he went back to work as the Parish Administrator at Church of the Holy Family in Novi, Mi. He officially retired in June 2003. He enjoyed golfing, playing Euchre, was a voracious reader, loved discussing politics and religion and a good vodka with a lemon twist. He had a quick wit and kind spirit. He and Joan loved to spend time in Siesta Key, Florida and traveling Up North. More than anything he loved spending time with his wife, kids, grandchildren and siblings and friends.
Gerard is survived by his loving wife, Joan of 57 years; children Gerard (Susan) of Livonia, MI, Colleen (Diane Puhl) of Farmington Hills, MI, Douglas (Sharon) of Birmingham, MI and Susanne (Dan Dentzer) of Evanston, IL; grandchildren David Rozman, Dugan Rozman, Ashleigh McMaster, Regan McMaster, Drew Rozman, Daniel McMaster, Nichole McMaster, Ian McMaster and Ethan Dentzer; brother Leo (Helen), twin brother Gerald (Delphine and the late Carol), and sister Veronica (Tony) Fiorillo; sisters-in-law Barbara and MaryJo; brother-in-law Alan (Joann) Schebil; former son-in-law Joseph Rozman; numerous nieces and nephews. He was preceded in death by his parents and brothers Jack and Bernard.
Family will receive friends and family on Friday, May 10, from 3:00 p.m. until 8:00 p.m. with a 7:00 p.m. Scripture Service at McCabe Funeral Home, 31950 W. 12 Mile Rd., Farmington Hills. Gerard will lie in state on Saturday, May 11, at 9:00 a.m. until the time of his time of Funeral Mass at 9:30 a.m. at St. Fabian Catholic Church, 32200 W. 12 Mile Rd., Farmington Hills .
Donations are appreciated to the Society of St. Vincent de Paul's Camp Ozanam.