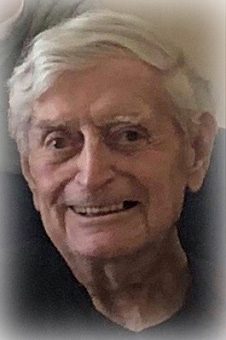 Harry Miller Ramsey
October 10, 1926 - July 6, 2019
HARRY RAMSEY, Age 92, of West Bloomfield, formerly of Brighton, Hilton Head, Cincinnati, New York State, Farmington Hills, and Detroit, passed away Saturday, July 6 in his home.
He was born October 10, 1926 to Harry (Senior) and Grace Ramsey. He was a graduate of Northwestern High School in Detroit, the University of Michigan (1948), and enlisted/served in the Navy at the end of WW II. He worked for Ford Motor Company (most recently as a District Sales Manager) and retired in 1980.
He is preceded in death (2010) by Ruth Ramsey, his wife, confidante, and best friend of 62 years. Patriarch of a family that includes Cynthia (Pat) Mitchell; Meredith (Don) Wood; Scott (Gay) Ramsey; Jon (Heather) Ramsey; and Barbara (Nick) Lane. He really enjoyed the ebb and flow as his children became responsible, caring, confident, and mature individuals in their own right. He was also extremely proud of his 11 grandchildren, Sam, Travis, Sara, Kate, Julia, Joe, Kyle, Colleen, Matt, Jordan, and Chris; and 10 great grandchildren, Samuel, Owen, Fiona, Eve, Alex, Milo, Oliver, Henry, Noah, and Rosalyn.
Harry was an avid reader, crossword puzzle solver, and an accomplished golfer - he shot his age or better multiple times and had four holes-in-one! Harry lived actively and independently until this spring. For the past eight years he formed a special friendship with Mildred Roberts, for which his family is grateful. Harry will be remembered for his sense of humor, generosity, intellect, perspective, and love of/loyalty to friends and family. He was acutely aware of the good fortune in his life and lived it to the fullest.
Visitation will be held Saturday, July 20 at 10:00 AM, followed by a memorial service at 11:00, at the McCabe Funeral Home, 31950 West 12 Mile Road, Farmington Hills, MI 48334. In lieu of flowers, contributions can be made to the charity of your choice or to All Americans Home Health and Hospice Care (AAHHC), 39555 West 10 Mile Road, Novi, MI 48375.