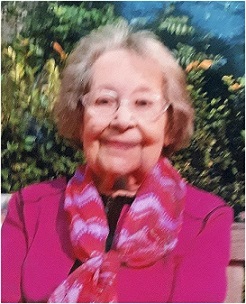 Eleanor Jorgensen
March 1, 1925 - August 14, 2019
Eleanor "Ellie" (Leitz) Jorgensen, age 94 of Novi, passed away in the presence of friends and family on August 14, 2019.
Ellie was born in Detroit and was a life-long resident of the Detroit area. After graduating from Cooley High School, she continued her education with college classes. Ellie married the love of her life, Walter, on July 30, 1949. Walter was an attorney and Ellie served as his legal secretary for many years. Friends and family enjoyed celebrating the 50th wedding anniversary of this convivial and spirited couple. Ellie was preceded in death by her beloved husband, Walter, as well as her two sisters, Dorothy Jones and Ruth Quinn.
Ellie joyfully served her church community, holding a variety of positions over the years. She was also an active member of the P.E.O. Sisterhood for over 60 years. Ellie loved being in the spotlight, starting with Drama Guild in high school, and continuing with the Farmington Players, both on stage and off. She was passionate about investing in her community and volunteered at the Cerebral Palsy Center and with the Goodwill Junior Group. Family and friends were a significant part of her life. She has maintained close relationships with her extended family and retained many decades-long friendships.
Ellie loved bowling, playing Bridge and solving crossword puzzles. She travelled throughout the world with both Walter and her sister, Ruth. Ellie was dearly loved by her family and friends and will be greatly missed.
A Celebration of Life service will be held at Meadowbrook Congregational Church (21355 Meadowbrook Rd., Novi, MI 48375) at 11:00 a.m. on Saturday, August 31, followed by a luncheon.
Donations in Ellie's name can be sent to Meadowbrook Congregational Church (21355 Meadowbrook Rd., Novi, MI 48375) or to the P.E.O. Sisterhood (PEO Chapter CD, 36096 Scone St., Livonia, MI 48154).