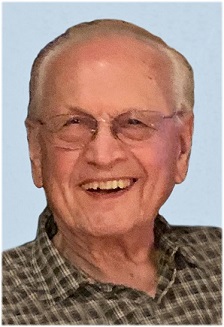 Leonard A. Grabowski
December 31, 1923 - August 28, 2019
Leonard A. Grabowski, passed away Wednesday, August 28, 2019. Loving father of Len (Vivian), Thomas (Late Rachel) Grabowski, Jane (Frank) Grabowski-Miller, and Joyce (Kevin) Lewis. Beloved grandfather of Steve, Alix, Kristyn, Aaron, and Luke. He was preceded in death by his wife Amelia in 2011.
Leonard had retired from the Detroit City Fire Department, and also retired as a Corrections Officer for the State of Michigan. He was a veteran of WWII serving in the Army Air Corps.
A Memorial visitation will be Monday, September 2, from 5-8 PM at McCabe Funeral Home, 31950 W. Twelve Mile Rd., Farmington Hills. A memorial service will be Tuesday at 11:30 AM from the funeral home. Memorial contributions may be made to the Detroit Firemen's Fund Association, 1301 3rd. Street, Ste. 329, Detroit, MI 48226.