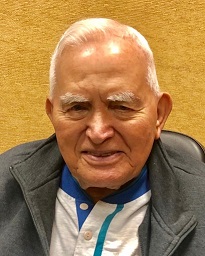 Cliff K. Sadlier
March 7, 1932 - September 23, 2019
Clifford 'Cliff' K. Sadlier of Novi passed away September 23, 2019 at the age of 87.
He was the loving husband of Joanne for 67 years; devoted father of Gene Sadlier, Kathy (Buzz) Fiol, Kimberlee (Scott) Alexander, Susan (Stephen) Burke, Jeffrey (Karla) Sadlier, Judy (Joe) Forte, Jennie Rose, and Linda Sadlier; cherished grandfather of Gene, Sarah, Scott, Jessica, Zachary, Jacob, Kaitlyn, Shannon, Rochelle, Pierce, Ben, Stella, Maggie, Carter, Noah, and Molly; and adored great grandfather of Robbie, Austin, Brooklyn, Scottie, and Gabby with two more on the way.
Clifford K. Sadlier was born during the Great Depression on March 7, 1932 in Colchester, Vermont to Clifford K., Sr. and Hilda J. Sadlier. He was raised in Vermont by his grandparents until the age of five when he moved to Detroit to rejoin his family after they had moved for a job opportunity. Cliff graduated from Royal Oak High School in 1950 where he was the first male class secretary in the school's history, skilled football player, and trumpeter. He dated his childhood friend, Joanne Snook, and the two were married on June 14, 1952, declared by President Truman to be the very first National Flag Day. At the age of 17, Cliff enlisted in the United States Naval Reserves where he served for 17 years. His patriotic character started to blossom.
Cliff and Joanne were blessed with seven children while they raised their family in Walled Lake. They later moved to Farmington Hills where they spent almost 25 years. Cliff was very social, always appreciating the time spent with his gang…comprised of former grade school friends and their spouses. 'The Gang' travelled together all over the United States. Later, Cliff and Joanne joined the 'Nomads' and continued to feed their traveling spirit overseas. Finally, they found themselves settling down as snowbirds with a lovely condo in New Smyrna Beach, Florida where their family enjoyed countless memories. Cliff also spent time singing bass in the barbershop chorus, The Gentleman Songsters. He did this for over 15 years.
Cliff was a resident of Fox Run in Novi where he made many new friends in the short time he had lived there. Cliff had a positive outlook, often being referred to as Mr. Fantastic. He shared his happy, calm demeanor with those around him. Cliff was a wonderful father who was blessed to share his life with 16 grandchildren and 7 great grandchildren. His life and legacy will live on in the hearts of those that love him.
Mr. Sadlier's family will receive friends on Sunday, September 29th, from 2 p.m. – 8 p.m. with a 4 p.m. Time of Sharing at McCabe Funeral Home, 31950 W. 12 Mile Rd., Farmington Hills. He will lie in repose Monday, September 30th, at 10:30 a.m. until the time of his Funeral Mass at 11 am at St. Fabian Catholic Church, 32200 W. 12 Mile Rd., Farmington Hills. Interment to follow at Holy Sepulchre Cemetery, Southfield. A Funeral Luncheon at St. Fabian Catholic Church will follow his interment. Memorial contributions are appreciated to St. Vincent DePaul in Cliff's name.