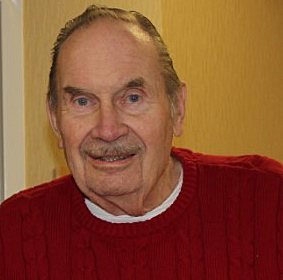 Harold Gilson
April 16, 1928 - October 18, 2019
Harold Raymond Gilson went home to the Lord on October 18, 2019 at the age of 91.
He was the loving husband of the late Virginia Irene for 64 years. Harold loved and is survived by son Steven Gilson (Cathy); daughter Linda Belokonny (Dave); son Raymond Gilson (Sharon); grandchildren Patrick Gilson (Christy), Joshua Belokonny (Talitha), Valerie Krava (Joel), Hannah Vander Velde (John), Noah Gilson (Mackenzie), Lisa Gilson, and Grace Gilson; great-grandchildren Parker, Mason, and Kailey Hubbard; Zakary and Collin Krava; Kayla Rotenheber; Dylan and Declan Gilson; Levi, Emme, Coen, and Zion Belokonny, and Judah and Ezra Vander Velde; nephew Robert Gilson; niece Sharla Gilson; and brother-in-law Ralph (Marian) Troup. He was preceded in death by his daughter, Sharon Marie Gilson; brothers Robert and Perry Gilson; sister-in-law, Beverly Gilson; grandson Mark Gilson; and granddaughters Karoline, Irene, and Anna Belokonny.
Harold was born to Carl and Mary Gilson in Chicago, Illinois on April 16, 1928, as the oldest of three boys. The family moved to Detroit when he was three years old and, in time, his mother had to raise and provide for the boys alone. As a consequence, his family was very poor. His mom provided for the boys by sewing and doing various jobs to have enough money to eat and keep the house. They had little furniture and had to use a neighbor's refrigerator. Because the Goodfellows helped them with food and Christmas gifts, Harold always gave to the Goodfellows each Christmas.
As a boy during World War II, Harold sold newspapers to help support the family, a good-paying job for a boy at the time. As a teen, he played high school baseball, even playing once at Briggs Stadium (later Tiger Stadium). He graduated from Mackenzie High School in Detroit.
Harold had a natural ability to fix and build things. Following high school, Harold used these skills to earn a position as a mechanic for the Detroit Department of Street Railways (DSR, now DDOT), which operated the buses for the entire city of Detroit. As time went on, he worked his way up to foreman mechanic.
In 1950, he met Virginia Troup, a candy sorter at Sanders Chocolate and later an engineering secretary at Chrysler Corporation. They married in April of 1951.
In 1952, Harold was drafted into the army and was stationed in Alaska, building radar installations, during the Korean War. Virginia continued working while living with her parents and saving all of Harold's military pay. While in Alaska, he developed a love for playing organized hockey, a sport he actively played until he was 80.
Upon his honorable discharge from the army in 1953, Harold returned from Alaska and, in 1955, Virginia left Chrysler to devote her life to being a dedicated wife to Harold and mother to the couple's three children, Steve, Linda, and Ray.
Theirs was a storybook marriage. Virginia and Harold's love for each other was always strong. He was "her man" and she was "my love". Their marriage was a shining example of love, kindness, respect, and deep devotion. They raised their three children to be strong in their Christian faith, work hard, and have fun. For many years, Harold worked long days, including a second job in the evenings, and Virginia tended to the children's needs. It was a tradition that dinner was on the table when Harold came home between jobs so the family could spend time together.
Steve and Ray inherited Harold's love for hockey, with both boys playing, Harold serving as coach or manager, and Virginia and Linda cheering. He constructed a rink in the family's yard many winters and the Gilson family frequented Detroit's Palmer Park with their church friends Sundays after church. Harold's sons and several grandsons and great grandsons now carry the hockey mantle.
Jesus was the center of their lives and Harold and Virginia were members of Covenant Baptist Church since their marriage in 1951. They were very active in the Bible Heirs Sunday School class.
In 1960, the couple built their cottage on Lake Erie in Ontario, Canada, with money Virginia had carefully saved from Harold's military pay. Throughout the next 40+ years, it was the center of their social and family activities. Countless family and Bible Heirs events were spent enjoying the shores of Lake Erie. Days started early with big breakfasts for the big crowds, then the children would help their Dad with projects, which was followed by lunch, and then play. The family enjoyed volleyball, basketball, and football in the water, going on the sailboat, playing pinochle, and roasting s'mores on the fire.
At the cottage, the days were busy with projects and everyone was expected to be involved but, when evening came, the focus was on a family dinner, playing baseball, and swimming. No one was too young or too old to be included in the games and activities. The children and grandchildren gravitated to him like moths to a flame because of his jolly personality.
As man who was careful with money, Harold was able to retire early, in 1984. Harold and Virginia were then able to travel quite a bit. They went to Sweden with Ray's hockey team, and also traveled to Florida, England, France, and Hawaii, and took an Alaskan cruise, often with their beloved Bible Heirs friends.
As time went on, as it's known to do, Harold and Virginia grew older. Virginia required more assistance and their house was more than they needed so they moved into assisted living. Many of their Bible Heirs friends joined them at the same facility. The couple enjoyed six months of activities and relaxation before Virginia graduated to Heaven. Harold, like the Energizer bunny, continued on. He enjoyed visits from family, getting out to attend family dinners and to swim, going to church, singing in the assisted living choir, painting, building intricate gingerbread houses with licorice chimney smoke, dressing up as Santa Claus and passing out candy canes, and assembling and framing puzzles for the family.
Everyone who crossed paths with Harold knew he was funny, light-hearted, and constantly working on a project. His heart was so big and full of love. He enjoyed kidding people and make them laugh. He told the best stories. He lived a fantastic life. He loved his family with his whole heart.
And so came October 18 and the good Lord said it was time for Harold to rejoin Virginia in Heaven, and he did. He was loved by all and will be sorely missed. Our loss is truly Heaven's great gain. Until we see you again…
Arrangements are as follows:
Visitation at McCabe Funeral Home
Wednesday, October 23, from 1-4pm and 5-8pm
31950 Twelve Mile Rd, Farmington Hills, MI 48334
Funeral service at Covenant Baptist Church
Thursday, October 24
Viewing from 10-11am
Service at 11am
5800 W Maple Rd, West Bloomfield Township, MI 48322
Luncheon in the Fellowship Hall following the service
Memorial gifts may be made to either of the following in memory of Harold Gilson:
The Farmington Area Goodfellows
31455 West 11 Mile Road
Farmington Hills, MI 48336
Tunnels to Towers (provides a 100% mortgage-free home to surviving spouses of U.S. Military service members killed in action)
2361 Hylan Blvd.
Staten Island, NY 10306
Please indicate that the gift is in memory of Harold Gilson and ask that acknowledgement of your gift be sent to:
Linda Belokonny
6842 Cathedral Drive
Bloomfield Hills, MI 48301