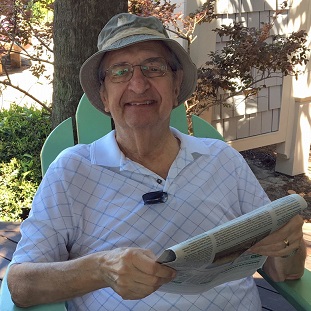 Stanley Smith
February 4, 1939 - November 13, 2019
Stanley Noble Smith passed away November 13, 2019 at the age of 80. He was the beloved and devoted husband of Shirley Jean for 57 years; cherished father of Eric Smith, Lisa (Russ) Stebbins, Amy (Dan) Sokolowski, and Janet Smith; proud papa of Sara (Justin) Riedy, Cynthia (Adam) Guiliano, Daniel (Shelby) Sokolowski, Andrew Sokolowski, Timothy Bock, Amelia Bock, and Jackson Stebbins; and great boppa to and loved so much by Genevieve, Norah Kate, and Isabella. Stan was the dear brother of Stephen (Shirley) Smith.
Stan was an amazing man, he was so dedicated to his family and ensuring that everyone around him was always happy. A veteran and engineer, he was knowledgeable about so many things. Stan was a real book of wisdom, a leader, a mentor, and beacon of light. He retired from Federal Mogul Corporation after over 40 years of dedication.
Stan enjoyed the beach, woodworking, golf and traveling with Shirley by his side. He believed in all of his kids and grandkids – even their crazy ideas, he was always there to support them and somehow made all those ideas come to light. There was nothing that Stan wouldn't do for his family and he was so proud of all that his family accomplished. He never missed a birthday, graduation, or moment. He was a great listener, friend and esteemed colleague to many. Stan will be deeply missed, but always loved and remembered as our Papa.
Stan's family will receive friends Wednesday, November 20th, from 10 a.m. until the time of his Memorial Service at 11 a .m. at McCabe Funeral Home – Canton Chapel, 851 N. Canton Center Rd., Canton. In lieu of flowers, Memorial Contributions may be made to Michigan Visiting Nurses, Angela Hospice, and Habitat for Humanity in his name.