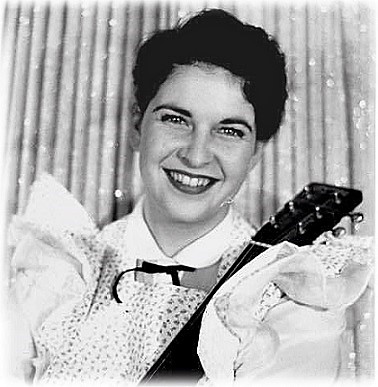 Mary Anne Johnston Farley
July 19, 1932 - August 13, 2020
Mary Anne Frances Theresa Johnston-Farley, age 88 of Farmington Hills, Michigan passed away August 13th, 2020 of natural causes.
Her birth certificate shows her middle name as "Ann" but when she was 8 years old, her older sister Justine, then 16, said, "I'm the only one in this family with an "E" on the end of my name, so I'm putting an "E" on the end of yours!" And Mary Ann(e) replied, "Okay, sure!"
Born in Redford, Michigan on her beloved Woodbine Street in the house her father, his brothers, and her mom's brothers built (with an outhouse instead of an indoor bathroom), Mary Anne had the best childhood anyone could ever want and felt very lucky being born when she was. Among her memories, picking vegetables from her mother's garden was a favorite. Graduating from Redford High School in 1950 at age 17, Mary Anne pursued her dream of being a country singer by performing in a hillbilly band she formed called "Cactus Lou and her Prairie Pals." After a number of other bands and shows, Mary Anne moved to Louisville, KY where she sang on radio and television for WHAS on shows like Midday Round-Up, Hayloft Hoedown and Saturday Night Barn Dance with the Red River Ramblers.
In October 1954, she accomplished her dream and was signed to a three-year contract with Acuff-Rose Records and even had The Mary Ann Johnston Fan Club. One of her most popular records was a song she wrote, sang and performed guitar on, called "Blue Teardrops." During this time, she met TV Director, John Farley, whom she would eventually marry on August 4th, 1956, and have four children — Leisa, Ken, John and Chris. The Farley's lived in Royal Oak and a few other places before landing on James Drive in Warren, Michigan, where a great many stories came from. Then, in June of 1971, the family moved to Wellington Road in Farmington Hills, Michigan, where Mary Anne would live for the rest of her life and create many unforgettable traditions and memories with and for her family.
Mary Anne loved music, traveling and, more than anything else, her family. She was preceded in death by her mother, Mary Ann Maley Johnston, father, Earl Henry Edward Johnston I, her husband, John Redmond Farley, a brother, Earl Edward Henry Johnston II (the only sibling in her family born in an actual hospital), sisters, Justine Margarita Ida Louise Johnston-Schwope, Eleanor "Babe" Ida Margaret Louise Johnston-Turk (and Babe's unborn twin Earlene, named after their father). Mary Anne is survived by her sister, Ramona "Sugar" Blanch Marinette Johnston-Souter, children, Leisa (Chuck) Passarelli, Ken Farley, John Farley, Jr. and Christopher Farley; grandchildren, Travis Passarelli, Kaleigh Passarelli, Tessa Passarelli, Claire Farley, Adam Farley and Larissa Farley. Mary Anne is also survived by her many beloved nieces and nephews. She loved her family so much.
Visitation for Mary Anne will be held on Friday, August 21st from 5:00 p.m. until 8:00 p.m. with a 7:00 p.m. Rosary Service at McCabe Funeral Home, 31950 W. 12 Mile Rd., Farmington Hills. She will lie in state on Saturday, August 22nd at 10:00 a.m., until time of her Funeral Mass at 10:30 a.m. at St. Fabian Catholic Church, 32200 W. 12 Mile Rd., Farmington Hills.
Memorial donations in Mary Anne's name are appreciated to the National Kidney Foundation.
Politely keeping everyone's safety in mind, family and friends will be asked to wear a mask and maintain proper distancing while attending visitation and funeral services.