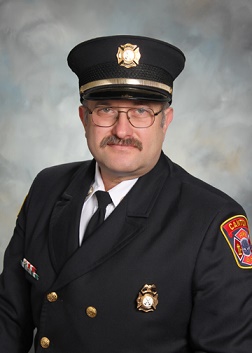 Paul Louis Pavloff
November 9, 1956 - September 10, 2021
Paul Louis Pavloff of Canton, Michigan was called home to his heavenly father on September 10, 2021, after a long battle with cancer at the age of 64. Paul was born November 9th, 1956 to Alexandra & Christ Pavloff, in Detroit MI.
Paul leaves a great legacy with his family and community. After graduating from Salem High School in 1975, Paul enlisted in the United States Army, serving with the 561st MP Company in Fort Myer, VA.
Soon after his service in the Army, Paul began an inspiring 42 year career as a dedicated Firefighter and EMT, serving Plymouth / Northville and Canton Michigan. Paul dedicated his life to the firefighting and emergency services community. Firefighter, Paramedic, Teacher, Mentor, HAZMAT, volunteer police officer, Fire Captain and Battalion Chief, finally retiring from the Canton Fire Department in December 2018. Paul's legacy will be his life of service and dedication to his community, which will live on for generations in the firefighting community he helped create, in those he mentored and in the lives he both touched and saved.
Paul married his early childhood friend, Vickie, in October of 1986 in Plymouth, MI. Paul was a dedicated husband, father, grandfather and father in law. He lovingly cared and provided for Vickie's two daughters (Devanie & JilAnn), and son Christofer, whom he raised as his own. An true "man's man", he was an excellent mechanic, carpenter and handyman who enjoyed working with his hands. He was also fond of roller coasters, grilling, good Mediterranean food and pizza. His homemade Stromboli was legendary!
Paul was preceded in death by Alexandra and Christ Pavloff (parents) and JilAnn Weise-Pavloff (daughter). He is survived by his wife Vickie Pavloff, Christofer Pavloff of Westland (son), Devanie (Nicolas) Weise-Haroney of Waterloo Twp. (daughter), Charlee Pavloff (granddaughter), Connie Orr-Adkins of Livonia (sister in law), Steven (Diane) Orr of North Carolina (brother in law), David Orr of Belleville (brother in law), Jeffrey Orr of Plymouth (brother in law), Karen (Thomas) Shelton of Canton (sister in law), Jim Orr of Ypsilanti (brother in law), George and Erica Eloff (godbrother), John and Francesca Eloff (godbrother) and many nieces, nephews, great nieces and great nephews.
Paul's family will receive friends on Friday, September 17th from 11 a.m. to 8 p.m. at McCabe Funeral Home: Canton Chapel, 851 N. Canton Center Road in Canton. Visitation will continue on Saturday, September 18th at 10 a.m. and will conclude with Fire Department and Military honor services at 2 p.m. Pastor Paul Schaefer will be officiating. A private internment for Paul, including internment for JillAnn (daughter), will occur at a later date.
Memorial contributions in Paul's name are appreciated to Canton Firefighters Charity Foundation, 1100 S. Canton Center Road, Canton, MI 48188.