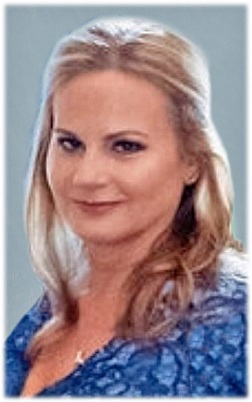 Kathleen A. Abbott
December 21, 1965 - October 3, 2021
Kathleen Ann Abbott (née Brata), 55 of Commerce Township, MI and formerly of Franklin, MI passed away at her home on October 3, 2021. Kathleen was born on December 21, 1965, to Mary Lou and Daniel D. Brata.
Kathleen was a larger than life, beautiful person who cared deeply for her family and friends. Always first in line to lend a hand, Kathleen was known to help those in need. There was never a dull moment when Kathleen was in the room. Either a spontaneous outburst, story or song, she would inspire laughter and happy engagement from all around her. Kathleen was known to excel at everything she tried, and particularly enjoyed cooking, knitting, gardening and spending time with family. Kathleen was a very generous and consummate entertainer, organizing large gatherings for family and friends. Down to the very last detail, the evenings Kathleen organized were perfection.
Never a strong swimmer, Kathleen conquered her apprehension of open water earning her scuba diver certification and developing a love for the water sport. Kathleen looked forward to her yearly scuba diving adventure to the Caribbean island of Bonaire with her beloved husband John. Another favorite activity was enjoying time at their summer home in East Jordan with access to beautiful Lake Charlevoix where she had her favorite swimming spot and relaxing on its shore.
Kathleen is preceded in death by her mother, Mary Lou Brata, cherished grandmother, Lillian Janke, and her brother, Donald "Joe" Brata. She is survived by her beloved husband, John C. Abbott, her sons David Lachlan and Drake Lorne and stepdaughters Maryn L. (Marc) Mansfield and Alexandra H. Abbott. She is also survived by her father, Daniel D. Brata, loving siblings James K. Brata (Andrea Massey), Mary L. Brata (Maya Kempff), John D. Brata, Thomas M. Brata, Anne Marie Brata (Steven Cabadas), her Aunt Ann Marie (Jim) Hitchcock, cousins Karen (Michael) Fodor, Audrey (John) Gill and Lynne (Larry) Oberle. She will be missed by many other members of her extended family and friends.
The family will receive friends of Kathleen's at McCabe Funeral Home, 31950 West 12 Mile Road, Farmington Hills, MI 48334, on Saturday, October 9, 2021, from 1:00 pm to 5:00 pm. A private, family ceremony will be held in the future.