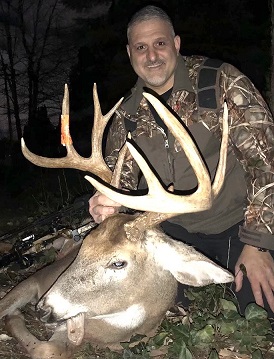 Jack Seman, Jr.
September 15, 1970 - November 19, 2021
We regret to inform you of the loss of Jack Seman, Jr.
Cherished son of the late Jack Ibrahim Seman and beloved mother Mary Seman. Dedicated father to Brett (Taylor) Seman and Angelica Seman, loving partner to Laurie Rouse and father figure to Katherine and Elizabeth Faglie. Family Members include loving sisters Lenore (late Warren) Kinnick, Nancy (Frank) Seman, Dr. Susan Seman (Tab Brown), Joanne Semaan, twin sister Dr. Mary Seman and Lisa Seman.
In addition, Jack was a cherished uncle to Jessica, Joseph (Rachelle), and Frankie Seman, Hunter and Ashley Brown, and Alex, Andrew, and Aaron Semaan. Loving nephew to many aunts, uncles and cousins and a devoted friend to all who knew him.
Jack Jr. was born in Southfield, MI on September 15th, 1970. He graduated from Southfield High School in 1988 and went on to join the U.S. Marine Corps. Jack was a giant Ex-Marine, a sharp shooter, an avid hunter, and a loyal citizen who loved this nation and served with great honor. Standing at 6ft 5in, 320 lbs., with a 17 1/2-shoe size, Jack Jr. was referred to by many as 'Big Jack'. In 2013, Jack joined St. Mary's Mercy Livonia Hospital as Director of Security where he was a shining example of compassionate care having a knack for comforting the most distraught patients when they needed it the most.
During his time in the United States Marine Corps (1989-1994) he attended boot camp in Paris Island, SC. Following boot camp he took part in infantry training at Camp Lejune, NC and was then selected to attend Marine Corps Security Force School. Post Force School, Jack served with the Fleet Anti-terrorism Security Team Company (FAST) and was deployed to Mogadishu, Somalia where he earned honors. Following Somalia he was deployed to Port-Au-Prince, Haiti to help secure the American Embassy. He was a team and squad leader for many marines that will be forever grateful for the life lessons Jack bestowed upon them.
"Unconditional love and compassion to all we protect and serve." Jack Seman Jr., Director of Security, St. Mary's Mercy Livonia Hospital
Funeral Arrangements:
Visitation:
The family will receive guests Tuesday, November 23, 2021, from 2:00 p.m. to 8:00 p.m. at
McCabe Funeral Home - 31950 West Twelve Mile Road, Farmington Hills, MI 48334
Church Services:
A Requiem Mass will be held Wednesday, November 24, 2021, 10:00am at
St. Thomas Chaldean Catholic Church - 6900 West Maple Road, West Bloomfield, MI 48322
Prayer Vigil:
From 3:00 p.m. - 6:00 p.m. following his Memorial Luncheon
Regency Manor & Banquet Center - 25228 West Twelve Mile Road, Southfield, MI 48034
Military Burial:
Wednesday, Dec 1, 2021, at 1:00 p.m. at
Great Lakes National Cemetery - 4200 Belford Road, Holly, MI 48442
In lieu of flowers, memorial donations can be made to: AAS LLC, a college fund for Jack's son and daughter, Brett and Angelica Seman. Checks can be mailed to: P.O. Box 7208, Bloomfield Hills, Michigan 48304