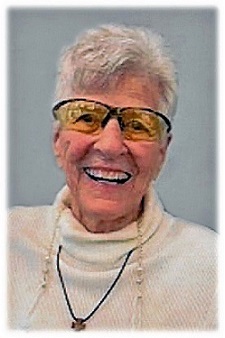 Alice C. Pranis
May 6, 1930 - December 29, 2021
Alice Carolyn Pranis, age 91 of West Bloomfield, passed away December 29, 2021.
Alice was born in Detroit, Michigan on May 6, 1930, to H.F and Dorothy Campbell. As a child, Alice grew up in a loving family providing an active lifestyle which carried through her entire life, as a teenager, adult woman, and mother. Personal experiences shaped her life, whether as a certified pilot, scuba diver, riding competitive equestrian or graduating from Knox College as a math major and being the only female in advanced math classes; Alice loved life and lived it to the fullest. During college, Alice met the love of her life, George Pranis, and they married in 1953.
Alice and George lived in West Bloomfield, Michigan and had 5 children: George, Dorothy, Jim, Nick, and Alexander. Alice shared herself across all her children, introducing a myriad of activities while they grew up. From scuba-diving, water and snow skiing, tennis, golf, swimming and horseback riding, Alice ensured there was never a dull moment. Far from only focusing on experiences, Alice also prioritized education and was president of the PTA for several years.
Alice was an accomplished businesswoman, beginning at her father's company, H. F. Campbell Construction Company and later, she and George opened their own company, with Alice overseeing all financial aspects of the business. Alice also embraced new technologies and in the late 70's completed computer training to become a computer programmer. And true to character, Alice shared knowledge and experience with her children and grandchildren which influenced life-long careers.
Alice and George loved to golf, play tennis and travel. Alice continued to play tennis into her 80's and golfed as recently as the summer of 2021. Alice loved music. She played the piano and sang in several different church choirs over the years.
Alice was known to her 16 grand and great-grandchildren as Yia Yia. Over time, Alice became Yia Yia to everyone! Alice enjoyed life, she was kind, loving, smart and fun. Alice embraced everyone and everyone became family!
Alice was the beloved wife of the late George. Loving mother of George, Dorothy (Marc) Voorhees, the late Jim, Nick (Becky) and Alexander (Michelle). Proud Yia Yia of Stacey, Marc Jr. (Jennifer), Lindsay (Nick), George, Chris (Bridgette), the late James, Alex, and Alexander. Great-grandmother of Laci, Cole, Cami, Anna, Theodore, Leighton, Shane, and Vivienne. Dear sister of the late John Campbell.
We remember Alice as a blessing to us and to all that met her. We'll miss this dear woman, cherished wife, beloved mother, and are so very thankful to have had her with us for as long as we did.
Memorial gathering will be held on Saturday, January 8th, from 2:00 p.m. until 8:00 p.m. at McCabe Funeral Home, 31950 W. 12 Mile Rd., Farmington Hills.
In lieu of flowers, please consider a memorial donation in Alice's name to a charity of your choice.