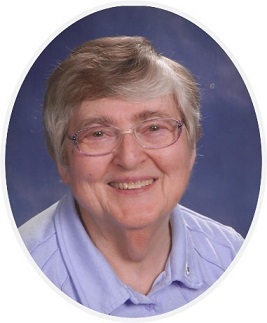 Sr. Kathleen Anne Stafford, D.C.
November 28, 1945 - June 19, 2022
Sr. Kathleen Anne Stafford, D.C., age 76 of Farmington Hills and formerly Saginaw, passed away June 19, 2022.
Sr. Kathleen Stafford was born on November 28, 1945, in Cleveland, Ohio, to Lewis and Mary Patricia Stafford. She spent the early years of her life in mid-Ohio, moving to Bay City, Michigan during the summer before she began fifth grade. Her family joined Visitation Church where Kathleen attended the parish school from fifth through twelfth grade graduation. She then entered the Daughters of Charity in Emmitsburg, Maryland, attending St. Joseph College in her formative years, majoring in Education with minors in English and Social Studies. Over the years, Sister Kathleen also served several times as the local superior for her community of Sisters.
Sr. Kathleen's teaching career took her to Youngstown, Ohio, Birmingham, Alabama, and Lake Zurich, Illinois. She received her Master's Degree in Education and a Certificate in Advanced Studies in Administration and Supervision through National College of Education (now called Lewis University). Sr. Kathleen served as Principal in Princeton, LaSalle, and Chicago, all in Illinois, and Saginaw, Michigan; former teachers often expressed their gratitude for her loyalty and support. After ministering in education for 48 years, she was asked to come to Christ the King School as a semi-retired Assistant Principal where she remarked that she thoroughly enjoyed her service as an educator and making a positive contribution to the school.
Sr. Kathleen was very creative in education and perfected her skills in sewing, gardening, cake decorating, and crafting hand-made presents during Christmas time. She also enjoyed boating, swimming, or any activity that involved being out on the water. Sr. Kathleen especially loved traveling with family and friends, often selecting unique and unusual, even adventurous places. Some of her favorites were the mountains, National Parks and especially Glacier National Park. She will be deeply missed by her friends and family and her Sisters in the Daughters of Charity.
Sr. Kathleen is survived by her siblings, Harold (Beth) and Frances Stafford; six nieces and nephews; and her Sisters in Daughters of Charity. She was predeceased by her mother, Mary Patricia Carpenter; siblings, Richard Stafford and Patricia (Rickie) Brown; and her stepfather, Nat Carpenter.
Visitation for Sr. Kathleen Stafford will be held Thursday, June 23rd, from 2:00 p.m. to 8:00 p.m. with a Vigil Service at 7:00 p.m. at McCabe Funeral Home, 31950 W. 12 Mile Rd., Farmington Hills. She will lie in state Friday, June 24th, at 9:00 a.m. until the time of her Funeral Mass at 10:00 a.m. at Church of the Transfiguration, 25225 Code Rd., Southfield. Sr. Kathleen will be laid to rest in Mt. Olivet Cemetery, Detroit.
The Funeral Mass for Sr. Kathleen will be live-streamed at https://m.facebook.com/transfigurationsouthfield/ on Friday, June 24th, starting at 10:00 a.m.
Memorial contributions may be made to Daughters of Charity, 4330 Olive Street, Saint Louis, MO, or the Alzheimer's Association – Michigan Chapter, 25200 Telegraph Rd #100, Southfield, MI 48033.