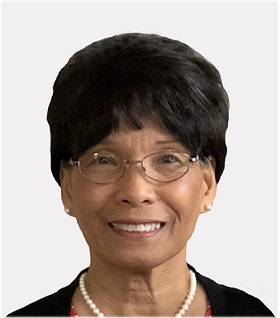 Eleanor Azarcon Lomibao
November 15, 1946 - September 15, 2022
ELEANOR AZARCON LOMIBAO, a selfless, thoughtful, generous, devoted, and loving mother, grandmother, sister, sister-in-law, aunt, cousin and friend passed away on September 15, 2022 after a short battle with acute myeloid leukemia.
Eleanor was born on November 15, 1946 in Cantilan, in the province of Surigao del Sur, Philippines to the late Crispin Estrada Azarcon and the late Sofia Gammad Azarcon making her the 6th child out of 9 Azarcon children. She grew up, earned her primary, secondary and college education in the Philippines. She received her nursing diploma from the University of the Philippines School of Nursing in 1968. She subsequently completed her degree in Bachelor of Science in Nursing at the Philippine Women's University in 1970.
A registered nurse by trade, her nursing career spanned 42 years from 1968 up to December 24, 2010 when she retired. She was first employed as a staff nurse by the Philippine General Hospital in 1968. In 1970, she immigrated to Montreal, Canada and worked for Royal Victoria Hospital. She was recruited and given a working visa to work for Harper Hospital in Detroit, Michigan, USA which she accepted in 1971. She remained in metro Detroit working for several hospitals in the area. She concluded her career with Oakwood Hospital in Dearborn, Michigan upon her retirement.
Detroit, Michigan is where Eleanor met Joe Lomibao and where they got married on May 30, 1975. They moved to Canton, Michigan in 1977 and lived there for the rest of their lives. They were both blessed by two lovely daughters Sharlene, born in 1976 and Kristina, born in 1980. Eleanor was preceded in death by her husband Joe who passed away in 1998.
Twice blessed with grandchildren, Eleanor decided to retire earlier than planned to help babysit her grandsons Jack Wilson, now 12 years old and Henry Wilson, now 10 years old. Both her grandkids were the center of her universe throughout her retirement years. During these years she acquired the love of cooking. Family reunions and the extended family and friends Christmas Eve celebrations at her place were always centered around her bountiful spread of delicious food. She was a tireless cook and she gifted and regularly shared such tasty food not only to immediate family but to siblings, nieces, nephews and friends making her the favorite aunt amongst nieces and nephews and of course a very special friend amongst friends. Eleanor also vacationed with family, her siblings and their spouses and friends to Asia, Europe, the Middle East and the Caribbean throughout her retirement years. She especially treasured her tour of the holy cities in Israel and wanted to go back to recapture the essence of such places.
Preceded in death by her parents, her older sisters Ester Gayol, and Avelina Azarcon who died of pneumonia at 3 years old, Eleanor is survived by her two children Sharlene Ellard and Kristina Wilson; her grandchildren Jack and Henry Wilson; sons-in-law Kyle Ellard and Jay Wilson; her siblings Elvira Azarcon, Araceli Pejo, Alicia Purkapile, Warie Azarcon, Astor Azarcon, and Daisy Casino; sisters-in-law Norma and Amy Azarcon; brothers-in-law Carl Purkapile and Pete Casino; many nieces & nephews and other cousins; the Lomibao sisters-in-law, brothers-in-law, nieces, nephews; and many friends.
Mrs. Lomibao's family will receive friends on Wednesday, September 21st, from 3:00 p.m. - 8:00 p.m. with a 6:00 p.m. Eulogy Service and 7:00 p.m. Novena at McCabe Funeral Home: Canton Chapel, 851 N. Canton Center Road, Canton. She will lie in state on Thursday, September 22nd, from 10:00 a.m. until the time of her Funeral Mass at 10:30 a.m. at St. Thomas a'Becket Catholic Church, 555 S. Lilley Road, Canton. Eleanor will be reunited with her husband, Larry, at St. Hedwig Cemetery, Dearborn Heights.