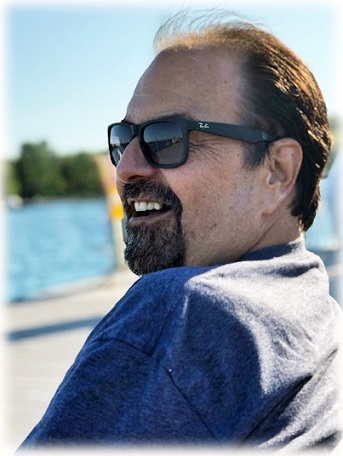 Mark Somerville
June 7, 1954 - April 28, 2021
Mark T. Somerville, age 66 of Farmington Hills, passed away April 28, 2021.
Mark was born June 7, 1954 in Detroit, Michigan to the late Dr. Thomas and the late Mary Somerville. The oldest of seven children, Mark understood at an early age the importance of a loving family. His drive and determination to become a strong and reliable provider guided him to a successful career as a building contractor & entrepreneur. He was dedicated to the job and excelled in all aspects, including being highly creative in interior design. His life's work and legacy will continue to be remembered by the many homes he remodeled in the community. Including the home of his late parents on Brendel Lake where the annual Somerfest 4th of July party was held. Also, the home he remodeled for his family to live in Farmington Hills for over 35 years.
On July 11, 1981 at Church of the Divine Child in Dearborn, another success story was set in motion. Mark and Liz were married and began the most wonderful adventures of life. Together, their love continued to grow with three children, and they quickly discovered how much fun it was to raise a family. Mark's love for his children had no limits. Leading by example, he taught valuable principles and instilled the virtues of honest work in order to reap the rewards that would follow. Although Mark tended to say he was rewarding his kids for their many achievements, he was also proud to admit he spoiled them any chance he got. Birthday parties were a particularly big deal and he looked forward to every single one. Traveling was another blessing Mark was able to enjoy with his family. There were countless memories made with each trip, notably the family's journey to Italy for Mark and Liz's 25th wedding anniversary.
As a husband and father, Mark truly shined. He was supportive to no end, attending all the events that come along with raising three active and involved children. No matter what, you could count on him to be there, supporting you on in any endeavor whether it was a science or art project, he was happy to explore and learn alongside his children. Simply seeing Mark's work van coming down the street gave his wife a sense of happiness and calm that she looked forward to every day. After his long days at work, Mark would walk through the door as if he were just starting his day, if he was tired or in a bad mood, you would never know, Mark was happy to be home and you felt it.
With all the things that Mark loved to do, he loved to do them with family and friends even more. Going out to dinner and the movies as a family was always a great time. Treasuring the company of good friends, Mark left the positive energy in the room better than how he entered. With his outgoing personality he was the welcomed star of any party. He was funny and proved an effortless balance of enjoying the entertainment as well as having deep discussions around history and philosophy. He enjoyed golf and was an avid sports fan, especially when it came to Michigan Football. He was always ready to play a game of Poker or Blackjack, the latter of which his skills were quite impressive. Experiencing a concert with Mark was guaranteed fun, joining him in singing along, particularly if the music was classic rock. His friends and family will remember him as Classic Rock Mark singing, laughing and enjoying an occasional cigar or two.
Mark will be remembered in so many positive ways. His open-mindedness allowed him to be tolerant of others, always willing to listen, actively and without judgement. He was empathetic and genuinely cared, which is why it was so easy for everyone to love him. He exuded the optimism for which so many strive and remained true to his stoic nature. He always preferred to laugh and find the humor in any situation that arose, never taking things too seriously if he didn't have to. Mark's passion for life can be remembered in the joy he brought others. He will be missed beyond measure and leaves an incredible legacy for his family and friends to forever cherish.
Mark was the beloved husband of Liz for 40 wonderful years. Loving father of Stephanie Somerville (Tim Rectenwal), Jackie (Mike) Dryden and Tommy Somerville. Proud grandfather of Elizabeth Dryden. Dear brother of Anne (Steve) Stella, Matthew (Cathy) Somerville, Suzanne (Jim) Niehaus, John (Tina) Somerville, Dr. Paul Somerville, and the late Carol Somerville. Mark is also survived and loved by many nieces, nephews, and great friends.
Visitation for Mark will be held on Monday, May 3rd at 10:00 a.m., until the time of his Funeral Mass at 11:00 a.m. at St. Fabian Catholic Church, 32200 W. 12 Mile Rd., Farmington Hills. In consideration for everyone's safety, masks are required inside the church, including during Mass, as well as social distancing to be maintained whenever possible.
The Funeral Mass will be live-streamed at www.stfabian.org for those unable to attend.
Memorial donations in Mark's name are appreciated to the City of Farmington Hills Meals on Wheels program or the PKD Foundation.