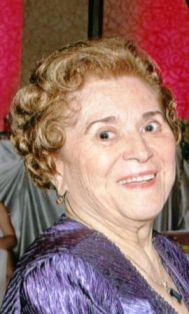 Sonia Raczkowski
June 11, 2014 - June 11, 2014


In the Silesian Foothills, just north of the Czecho border and the Carpathian Mountains lies the beautiful city of Bielsko-Biala, Poland. Bielsko-Biala is actually the amalgam of two cities on opposite banks of the Biala River. The presence of a military base on the outskirts of the city ensured that there was always plenty of activity there. It was into this city that Stanislaw and Jozefa Stojek welcomed their only child, a daughter, Zenona, affectionately known to all as Sonia.
Stanislaw was a doting father who made a career as an infantry military officer in the Army of the Republic of Poland. A highly energetic man, he loved to fish and to play cards. He had a repertoire of jokes for every occasion. Jozefa was the rock of the family. She was cultured and loved to read. Jozefa was a loving and nurturing mother who saw to it that her young daughter always finished her homework before she headed out to play.
As a young girl, Sonia enjoyed dancing and socializing with her peers. She loved going on picnics with her friends, up in the nearby Carpathian Mountains. Her carefree existence was short-lived, however, when World War II broke out on September 1, 1939, as the Nazis invaded her Polish homeland. This would become the turning point of her young life. It wasn't long before Sonia's father was captured by the Germans and held in a prisoner-of-war camp. As a consequence, Sonia and her mother were driven out of their hometown and lived in seclusion for three years. During the last two years of the war, they were rounded up and sent into captivity in a Nazi sub-camp. They were held there until their liberation in early 1945.
After the war, Sonia made it her mission in life to help other people. She dedicated herself to her studies, with the goal of one day becoming a medical doctor. Upon finishing high school, she was accepted to the Jagielonski University Medical School in Krakow. She graduated with her medical degree in 1960.
After completing her education, Sonia was delighted by her parents' gift of a surprise trip to visit friends in the United States. It was on that trip that she met Bogdan Raczkowski. They were introduced at a Sunday dinner party in the old St. Andrew's Parish area of Detroit. Their relationship blossomed rapidly and within months, they were married.
After her marriage in 1962, Sonia wanted to continue her work in medicine in her new homeland. She was accepted to the staff of the former Deaconess Hospital, then Alexander Blain Hospital in Detroit. In 1967, she joined Sinai Hospital of Detroit as a surgical assistant. In 2007, the Detroit Medical Center honored Sonia for over 40 years of dedicated service to the institution.
In 1970, Sonia began her volunteer work with the Michigan Chapter of the Polish Youth Association (Scouting). She was always reaching out to young people, helping them to achieve their dreams. She did not limit her focus to that one wonderful group; she became involved in many other civic, humanitarian, and Polish organizations. Because of the events in her childhood, Sonia was an avid fighter for fair, reasonable, and legal immigration policies. She truly understood the meaning and cost of freedom and she became an active member of the "New Detroit" Committee on Immigration.
During the course of their marriage, Bogdan and Sonia had two sons, Waldemar and A. Rocky. Bogdan and Sonia were wonderful parents, stressing to their boys the importance of their Polish culture, education, and love of God. They took excellent care of the boys, making sure that they never went without anything. They enjoyed many memorable family vacations in Michigan, and later, in Florida.
Although Sonia was very proud to be an American, she was equally proud of her Polish heritage. She kept a home that was steeped in Polish traditions. She insisted that her boys speak Polish when they were with friends who were also of Polish decent. Sonia brought her boys to many community events and made sure that they understood the importance of community involvement and service. Her sons saw her as a "servant leader." It was because of his mother's activism that A. Rocky joined the military, becoming an Army officer. Her greatest joy was watching the people she helped succeed in whatever they attempted.
Sonia was a powerful force, a woman of immense energy and compassion. Sonia will be greatly missed by her family and by everyone whose life she touched. The warmth of her smile, her energy and her marvelous work ethic will linger on in their hearts and minds for many years to come.
Well-known community activist and Polish-American Community leader, Sonia Raczkowski passed away late Wednesday night, June 11, 2014, at her Farmington Hills home. She was the beloved mother of Waldemar (Annette) and Andrew Rocky (Amalia) and the dear grandmother of Caroline, Victoria and Sofia Christina. Sonia's loving husband Bogdan preceded her in death on January 7, 2002.
Family and friends may visit Friday, June 20, from 2-9pm and a Rosary will be said at 7pm at the McCabe Funeral Home, 31950 W. 12 Mile Rd., Farmington Hills. A Funeral Mass will be held at 10:30 AM on Saturday, June 21, at St. Fabian Catholic Church, 32200 W. 12 Mile Rd., Farmington Hills. Following the service, interment will take place at Holy Sepulchre Cemetery in Southfield.
Memorial donations may be made to PSO/ZHP Michigan, 35126 Glengary Circle, Farmington Hills, MI 48331.