Andrea L. Moeller, Licensed Funeral Director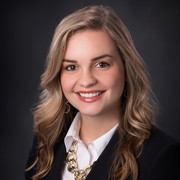 Andrea learned of the McCabe Funeral Home because of a fortuitous meeting with a former teacher from Wayne State University. After her first interview, Andrea was convinced that McCabe Funeral Home was the perfect fit for her. It was the McCabe family's absolute devotion to strong values and to serving families and communities with utmost care and respect that drew her in to this profession of service.
As the director of McCabe Funeral Home, Andrea has discovered a sense of fulfillment from supporting families in their greatest time of need. As director, Andrea takes great pride in providing answers and serving as a strong pillar for family and friends that are going through the grieving process. Her position allows her to offer unconditional support, which always proves to have a profound impact as families are trying to cope with loss.
Without a doubt, one of Andrea's biggest assets is her ability to make personal connections and build trust with families going through the grieving process. Because of her commitment to funeral service and to the mission of the McCabe Funeral Home, Andrea looks forward to serving families here for many years to come.