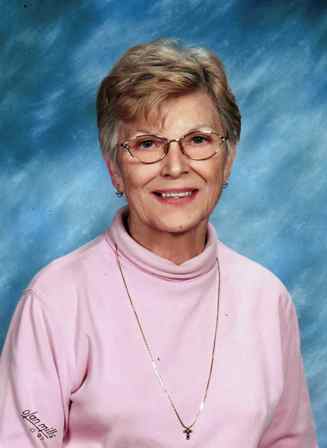 Marie A. Kniespeck
June 14, 1935 - November 2, 2016


Marie Kniespeck was born on June 14 1935 in Detroit, Michigan. Her father, Mathew, worked at Chrysler Automotive Company. Her mother, Hedwig, was a homemaker who loved to play bingo. Both parents were busy but made the most of the time they had. They were focused on family and were thrilled when Marie was born.
The Kniespeck family lived in Detroit at 6 Mile and Davison. Marie grew up in a Polish and Ukrainian community where family was first priority. She was the second oldest of her four siblings, Matthew, Martin, Michael and Marlene.
Marie attended St. Benedict High School where she developed a very close knit group of friends. She graduated from St. Benedict's in 1953. After high school, Marie continued her education at Highland Park Junior College. She pledged Pi Sigma Chi sorority and enjoyed balancing her academic studies with social activities.
After completing her education, Marie began working in a secretarial pool at Chrysler Automotive. She would eventually work at League General Insurance and advance to the position of secretary to the President at Cuna Mutual Insurance.
While attending church, Marie met a man named Joe Plesuchenko. The couple dated and fell in love. They were married in 1957 at St Augustine Church in Detroit, Michigan. Marie and Joe settled into their first home, a bungalow, on Hawthorne Street in Detroit and eventually moved to Livonia followed by Lathrup Village.
Together, Marie and Joe welcomed three children, Kathy, Karen and Joseph, into their family. They were wonderful and devoted parents. Their home was filled with love and fun. Marie loved to entertain. She would host themed Christmas Eve parties with immediate family and go "all out" with a full meal and many decorations. Joe and Marie worked hard to raise their children to be independent and self sufficient; qualities that would serve them well in their adult lives.
Marie enjoyed life and made time to relax and have fun. She was crafty and liked to sew and do DIY projects. Although she didn't think she was a good cook, she was excellent and made the most perfect stuffed cabbage and birthday lasagna. She was an antique glass enthusiast. She loved to visit casinos and play bingo. She was an avid reader with a wonderful vocabulary and challenged herself with crossword puzzles. She traveled and particularly loved Carmel-By-the-Sea in California. She thought it was the most beautiful place to stay.
Marie's greatest joys in life were her 3 grandchildren, Christopher, Brandon and Jacqueline, who lovingly called her Grammy. She was a breast cancer survivor who inspired her family and friends with her courageous spirit and showed them how to beat the odds and overcome challenges. She will be remembered saying, "if it's not one thing, it's another", and "we do the best we can with what we got". She loved the song "You Are My Sunshine" because she remembered her father singing it to her. Those who knew her will never forget her loving spirit or her dry sense of humor.
Marie A. Kniespeck passed away on November 2, 2016 at the age of 81. She was the beloved mother of Kathy Plesuchenko, Karen (Robert) Martin, Joseph Plesuchenko (James Keillor). She was the loving grandmother of Christopher Nowak, Brandon Plesuchenko and Jacqueline Martin. She was the dear sister of Matthew (Lynn) Kniespeck, Martin Kniespeck, the late Michael (Sue) Kniespeck and Marlene Rodriguez. She is loved and missed by many nieces and nephews.
Visiting will take place on Friday, November 4, 2016 from 3pm to 8pm at McCabe Funeral Home, 31950 W. 12 Mile Road in Farmington Hills. Marie's life will be celebrated on Saturday, November 5, 2016. She will lie in state from 10:30am until the time of Mass at 11am at St. Fabian Catholic Church, 32200 W. 12 Mile Road in Farmington Hills. Memorial contributions may be made to the Michigan Humane Society.