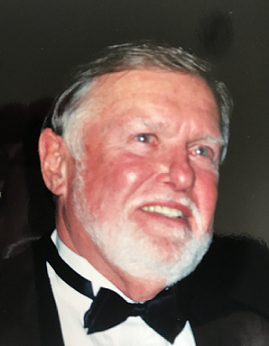 William G. Louwers
July 10, 1934 - August 10, 2017
William G. Louwers, age 83, passed away August 10, 2017. Loving husband of the late Sally (White Hartzell) ('16) and late Joan (nee Klein) ('96). Devoted father of Kathy (Tom) Roos, Karen (Mike) Heath, MaryBeth (Dan) Gallagher, Annie (Mike) Schork, Billy (Katherine) Louwers, Bobby (Juli) Louwers, Susie (Greg) Aufschlager, and David (Amy) Louwers. Cherished grandfather of Amy (Sean) Harrington, Bryant Roos, Kelli (Stuart) Collins, Jeff (Kayla) and Joe (Ashley) Heath, Christina (Eric) Zhao, Cailee (Jordan) Bartow, Casey Gallagher, Madeline, Michael, and William Schork, Matthew, Christopher, Tony, Daniel (Amy), Nick, Andrew, Catie, Davey, Lauren, and Lindsay Louwers, and Alex, Olivia, and Jacob Aufschlager. Caring great grandfather of Kellan, Carter, Blake, and Molly. Dear brother of James (Eve) and the late Jay (late Maureen) Louwers.
Bill grew up on the East Side of Detroit; attended St. Matthews, High School at Detroit De La Salle, and received his BA and MBA at University of Detroit. Longstanding career in Employee Relations & Human Resources with the likes of Federal Mogul, Booth News Papers, The Detroit Free Press and BCBS of MI. His devotion to his faith and family inspired all who knew him.
Memorial Celebration Thursday, August 17th, 6-9pm with an 8pm Rosary at Inn at St. John, 44045 Five Mile Rd., Plymouth, MI 48170. Memorial Mass Friday, August 18th, at 10am at Resurrection Parish, 48755 Warren Rd, Canton, MI 48187. In lieu of flowers, Donations can be made to De La Salle Tuition Assistance Fund- In Memory of William Louwers, 14600 Common Rd. Warren, MI 48088.