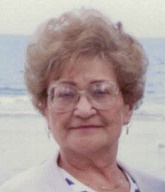 Doris Farrugia
February 10, 1927 - February 18, 2018


World War I had ended a little more than eight years before and World War II was still more than a decade away when Doris Vitali was born to Italo and Elia Vitali in Detroit, Michigan. It would be more than two more years before anyone would begin worrying about a major stock market crash.

It was the year Charles Lindbergh made his famous solo flight across the Atlantic. It was the year when Henry Ford's production plant produced its first pickup truck. It was the year that workers began chiseling out the famous busts on Mt. Rushmore. America was thriving. One might say Doris picked a great time to enter the world, February 10, 1927. Amid oceans of great conflict, it was a temporal island of American peace and prosperity.

And that was mostly the kind of life Doris lived for her 91 years—primarily peaceful and prosperous. Hers was not the kind of life one reads about in the gossip columns. She grew up in a quiet, humble family with two quiet and humble sisters, Adelaide and Fredericka. Adelaide, better known as Laide, was closer in age to Doris, so the two of them were especially close. Fredericka, better known as Jean, was much younger. They likely had their adventures, but they chose to keep those adventures to themselves—quiet.

Doris finished her quiet, inconspicuous school years at Pershing High School and on October 18, 1947, married Constantine (Gus) Farrugia at St. Mary's Church in Detroit. Following Gus's service in the U.S. Navy, he began his career as an engineer at Ford Motor Company. The young couple then resumed their quiet, peaceful lives and started a quiet, peaceful family. They had two children, Michael Richard and Michelle Marie.

Doris worked for a while at a catering business and at a dental office, but mostly she spent her time as most wives and mothers did in that era—housekeeping and nurturing her children.

The young Farrugia family enjoyed summer trips to a cottage in Deckerville, Michigan, and to Port Elgin, along the shores of Lake Huron, in Ontario, Canada. Those were memorable trips for the family, but not the kind of events that catch the eyes of the modern, sensation-seeking media. They were an inobtrusive family living a modest life in a languid time.

Later, after Michael and Michelle had grown up and moved out, Gus and Doris often enjoyed quiet trips to Myrtle Beach, South Carolina, and sometimes even to Europe—long after World War II had ended, of course.

A year after Gus quietly passed from this life in 2010, Doris broke her leg and, as a result, moved into assisted living and then into a nursing home to live out her final, quiet years. Doris passed away on February 18, 2018 at the age of 91.

Like most Americans, Doris Farrugia's passing was noted by few outside her family and close friends, but that makes her life no less meaningful than those that garner great public attention.
Bertrand Russell said it well: "A happy life must be to a great extent a quiet life, for it is only in an atmosphere of quiet that true joy dare live."

Doris Farrugia dared to live a quiet life—and the world is a better place for it.

Doris was the dearest wife of the late Constantine "Gus". She was the beloved mom of Michael R. Farrugia and Michelle M. (Philip) Marlow. Loving sister of Adelaide Cristiano and Fredericka Vitali. Nieces and nephews also survive. She was preceded in death by her two brother-in law's; John Cristiano and Federico Vitali.

A Funeral Mass will be held at 11:00 a.m. on Friday, February 23, 2018, at St. Mary, Our Lady of the Snows Catholic Church, 1955 E. Commerce Street, Milford, Michigan. Visitation will be held on Thursday from 4:00 p.m. until 8:00 p.m. at the McCabe Funeral Home, 31950 W. 12 Mile Road, Farmington Hills, Michigan and 10:30 a.m. Friday at the church until the time of service. A rosary service will be held at 7:00 p.m. on Thursday at the funeral home. Mrs. Farrugia will be entombed at Holy Sepulchre Cemetery, Southfield.

Contributions in memory of Mrs. Farrugia may be made to the Alzheimer's Association - Greater Michigan Chapter (www.alz.org)