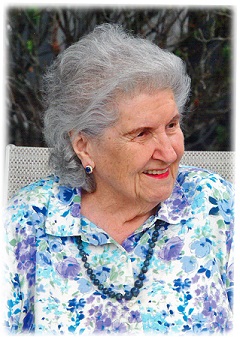 Alice M. Chorkey
January 29, 1925 - April 12, 2018
Alice May Chorkey was born January 29, 1925, fewer than five years before the 1929 stock market crash and the resultant Great Depression. So one might assume that her early life was difficult at best. And stacked up against today's standards, some might agree with that assumption. But by the standard of that era, because of her hard-working immigrant parents, Alice had a nice life.
As was common in that era, Alice was born in her parents' home, a flat in Lakewood, Ohio, a northwestern suburb of Cleveland. The family soon moved to Detroit, where, before long, her father, John Stephen Wozarik, found work as a tool-and-die maker, which was a profession with an above-average salary. Because of that career, the family enjoyed a better than average standard of living.
As also was common in that age of intense immigration, immigrants tended to cluster together with others who'd come from the same region. Delray, where the Wozariks settled, was a working-class community with mostly first-generation Americans: Hungarians, Poles, Slovaks, and Germans.
There, on Portland Street, the family thrived—at least as well as can be expected during the Great Depression—and four-year-old Alice began school. Being away from home and family can be traumatic for such a young child, but Alice had the comfort of being accompanied by her cousin Rita Horchak, who lived nearby and who was much closer than Alice to her fifth birthday when the school year began. Alice and Rita remained close throughout their lives. Rita was not Alice's only friend, however; Alice was also devoted to her two younger sisters, Corrine Betty and Beverly Ruth.
In their small, Catholic school, sometimes more than one grade occupied a classroom. Such was the case when Alice's third-grade class was combined with the fifth-grade class. The astute teacher soon recognized Alice's aptitude and, one day while the other kids were at recess, wrote a fifth-grade-level math problem on the chalkboard and asked Alice to solve it. Based on Alice's correct answer, the teacher advanced the gifted student to her fifth-grade class. Suddenly, the nine- and 10-year-olds in the fifth grade had a seven-year-old classmate.
A bit later, Corrine and Beverly contracted scarlet fever and the Wozarik home was put under quarantine for weeks. However, the bills had to be paid, so Alice's dad had to continue working. The solution was for him to live alone in the sealed first-floor bedroom while the other family members lived above.
The family weathered that trial, as they did all the others, and life went on, with Alice graduating from Detroit's Southwestern High School at age 15. Too young to get a job, she enrolled at Detroit Business University. Then, at just 16, she started her first regular job, at a chemical company. After trying a few other occupations, she wound up at General Motors.
It was at about that time that she met Bill Chorkey at a nearby skating rink, where the pair impressed many with their skating skills, including "Pop" Wells, the owner of the rink. He encouraged Bill and Alice to compete in the 1943 state roller skating championships. After months of diligent practice, they were ready. Attired in their skate-dancing best, the young couple finished second, beaten only by an older, married couple. But second place was still good enough for them to go on to the nationals in New York City, finishing fifth in the nation.
On Independence Day of 1945, Bill and Alice were married. They had a brief honeymoon at Niagara Falls before Bill returned to his army basic training. Following Bill's basic training, he was on his way to Fort Ord in California when his appendix ruptured. Because of that unfortunate incident, he—and soon Alice—wound up in Winnemucca, Nevada where they made a life-long friend in Helen DeLeon Hamilton. An ambulance rushed Bill to the Humboldt County General Hospital, where his appendix was removed. After his recovery and a short stay for them at a mid-California base, Bill was shipped off to Guam, leaving behind Alice living with her parents, pregnant with their first child.
Following Bill's return, the young couple eventually made a home of their own in Detroit, where they raised their six daughters and one son. Bill and Alice announced their youngest's coming to her parents by the way of a Christmas card. "If this year's shopping gave you kicks shopping for the Chorkey six, next year's chore will seem like heaven because you'll be shopping for the Chorkey seven." Bill worked at various jobs, including chief engineer and sales manager of Automatic Valve Company. But in 1962, Bill and Alice started their own company, Ace Controls, Inc. Alice preferred working to being a housewife. Bill said he had to sell the company to get Alice to retire. When they sold the very successful company in 2001, they were able to retire in comfort and continue to travel extensively. Sadly, however, after 63 years of marriage, Bill died in 2008, just seven years after his retirement.
Alice spent her final years travelling until age 90 and doting on her seven children, 14 grandchildren, and 26 great-grandchildren. And as those loved ones would attest, Alice May Chorkey lived a blessed life. She said she was "an ordinary person who lived an extraordinary life."
Alice passed away April 12, 2018, at the age of 93.
She was the devoted wife of William "Bill" for 63 years until his passing in 2008. Proud matriarch of seven children, 14 grandchildren and 26 great-grandchildren. Mother of Lorraine, Susan Wilts, Janet, Karen (James) Renaud, William (Gia,) Nancy (Mark) McMacken and Lois Dabrowski. Daughter of the late John and Julia Wozarik. Also survived by sisters Beverly Domby and Corrine Chervekowsky, sister-in-law Irene Chorkey, brother-in-law Edward "Archie" Jeffery and many nieces and nephews.
Visitation for Alice will be held on Tuesday, April 17, 2018 from 2:00 p.m. until 8:00 p.m. at McCabe Funeral Home, 31950 W. 12 Mile Rd., Farmington Hills. She will lie in state on Wednesday, April 18, 2018, at 10:00 a.m. until the time of her funeral mass at 10:30 a.m. at St. Fabian Catholic Church, Farmington Hills. Memorial donations in Alice's name may be made to the charity of your choice.