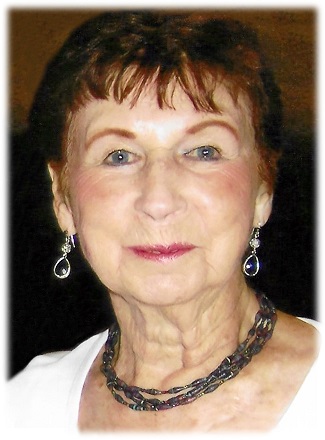 Marion M. Barringer
June 21, 1923 - September 21, 2018
Marion Moore Barringer (née Hedquist) passed away on September 21, 2018. She enjoyed 95 years, plus one summer, of life. She was the loving wife of the late George David Hedquist (m.1941-1948) and Wallace M. Barringer (m.1950), and devoted mother of Cheryl Hedquist Kachaturoff, Linda (Andy Pickens) Barringer, David (Sherry) Barringer, Julie (Doug) Barringer-Richers, Mark Barringer and the late Robert (late Annette) Hedquist. She was the cherished grandmother of Heidi Hedquist, Adam Kachaturoff, Kristine (Martin) Bowdell, Cody (Melissa) Hedquist, Greta (Josh) Vowell, Leslye Barringer-Wise and Nathan Barringer and the adored great-grandmother of Patty, Simone, Dylan, Lane, Mary, Marty, Amelia and Jackson. She is survived by nephews Ron (Marie) Barringer, Jim (Lynette) Purdy, great nephews Adrian Barringer, Brian, Scott, and John Purdy and Michael (Christine) Rohloff and two great-great nieces and a great-great nephew. She is also survived by her beloved cousins Barbara Davis, Maureen (Gary) Lacey, Priscilla (Larry) Mason, Jean Webster, Judy (Jim) Freas, Dottie Watson, James (Nancy) Gowell and their families. She was preceded in death by her mother Betty Joselyn, sister Dorothy Purdy, her husband's David and Wally, son Bob, nieces Nancy Purdy and Lanaya Barringer and in-laws Milton and Lucille Barringer.
Marion was born on June 21, 1923 on Bartholomew Pond in Peabody, Massachusetts to Bertha "Betty" Minnie (Webster) Moore and Nathan Moore. During the Depression, the family moved from Massachusetts to Detroit. Marion was 7 and her only sibling Dorothy was 4. Soon after the move, Betty and Nathan divorced, leaving Betty to raise her two young daughters on her own. She opened a beauty shop called Betty's Beauty Band Box in Detroit. During the summers, the girls returned home to Massachusetts to stay with their beloved aunts, uncles and cousins. Some of Marion's fondest childhood memories included lining lobster bodies along her aunt and uncles window sill and digging clams on Good Harbor Beach in Gloucester, Massachusetts. Throughout her school years, Marion participated in girl's basketball and tennis, as well as being a member of the horseback riding club. She was very proud that she had saved her babysitting money so that she could go horseback riding. She loved dressing up with her high school friends in their fur stoles and going downtown to dance with the servicemen. She graduated from Cooley High School and was contemplating attending nursing school but she met and fell in love with David Hedquist while still in high school. They were wed just 10 days before he was shipped out with the US Army Calvary to the South West Pacific war theatre.
During David's absence, Marion worked at The Excello Corp. in Detroit and participated in many aspects of the war effort in her community. When David returned to the states three years later, he was stationed in Miami, Florida where Marion joined him. Their first child, Robert (Bob) was born on September 25, 1945. David had suffered several serious injuries and contracted malaria and other illnesses during his deployment, so he was eventually honorably discharged from the Army and the family moved back to Detroit. Their second child, Cheryl was born on Christmas Eve, 1947. Shortly after Cheryl's birth, David had fallen more gravely ill and he passed away in the spring of 1948.
Marion went on to raise her two young children alone, along with the help of her mother, her sister and David's parents, George and Ednia Hedquist. She was also surrounded by a loving group of supportive and loyal friends. After some time passed, this group of friends (which included "Uncles" Chuck Sneddon and Len Carter) did a bit of matchmaking through the Highland Park Presbyterian Church Bowling League and introduced Marion to the next love of her life, Wallace (Wally) Barringer. Marion and Wally were married in November of 1950. Wally jumped right in as a loving dad to Bob and Cheryl, although rumor has it that due to his "weak" stomach, he was not very helpful in the diaper changing department! Over the next 9 years, Marion and Wally added four more children to the family—Linda in 1952, David in 1955, Julie in 1957 and Mark in 1959. Between Julie and Mark's births, they moved their growing family from their home on Pembroke Ave. in Detroit to Franklin Village, and then in 1961, they made another move to a new home on Pipers Lane in Farmington Township, now known as Farmington Hills.
Marion lead a full and active life:
She maintained a life-long friendship with six girlfriends from elementary school, known as the "Magnificent Seven".These dear women all proceeded her in death, most recently by her closest friend, Maggie Palacky.

She was actively involved in Girl Scouting for over 40 years as a parent, local troop leader and through national leadership.Her girl scout buddy, Alvine Cooper remained a devoted friend.

She was also active in Boy Scouts and volunteering in schools and church.

Marion Barringer took a lot of pride in providing her family with three meals a day, clean ironed clothes and "having the cleanest house in town"!!

She had an appreciation for fine china, collectables and antiques.

She loved entertaining her family and friends, including the Carter family on Saturdays, which included many backyard barbecues.

She was in several golf and bowling leagues.

She played Bridge with many of the same women for over 40 years.

She attended Town Hall with her friends and joined a fun and lively neighborhood group called the Merry Makers.

She was a founding member of the Nardin Park Braille Transcribers.

Marion loved to dance and took tap dancing lessons as a child and then again in her 80's with her granddaughter Heidi.

She loved the Detroit Tigers and often bragged how her first husband, David Hedquist, an artist and professional baseball player, taught her how to swing a bat correctly.

She was a remarkable survivor of life's challenges and her life-long mission was to advocate for women's health. She was a 29-year survivor of Stage 4 Ovarian Cancer and an active and inspirational member of One-to-One, an ovarian cancer support group. She was guided in her health by her devoted, loving friend and physician Dr. Melody MacMartin.

She will be remembered for her ability to make people feel important, accepted and loved.She had an amazing capacity to forgive. Everyone she met had the potential to become "one of the family".

She felt that personal care both inside and out was of the utmost importance and she loved her Friday standing appointment at R Place Salon with Rima, Stephanie, Sue, Barb, Judy and others.

She was a long-time member of Nardin Park United Methodist Church.

Marion and Wally often enjoyed a Friday night date at Diamond Jim Brady's Restaurant and formed a lasting friendship with owners Tom and Mary Brady.

Marion loved 40's music and theater.One of her favorite movies was Somewhere in Time and she and Wally attended the Somewhere in Time Weekend many times, dressing in period clothing for the weekend at the Grand Hotel on Mackinac Island.

She loved family vacations in Michigan, at Norrie, Wisconsin, as well as Colorado, Maryland and other beautiful places in the United States.

Her greatest loves were clear and simple--her country, her children, grand-children and great grand-children.

Even though she personally experienced the effects of war, she had great respect for our country and our veterans.
A letter she wrote to her children and grandchildren, to be read upon her passing, had this as a post script:
Keep on dancing and singing!
Marion's visitation will be held on Thursday, October 4th from 2:00 p.m. until 9:00 p.m. at McCabe Funeral Home, 31950 W. 12 Mile Rd., Farmington Hills. A funeral service will be held at McCabe Funeral Home on Friday, October 5th at 10:00 a.m. Internment at Woodlawn Cemetery, 19975 Woodward Ave., Detroit, will immediately follow the service. A luncheon celebrating Marion's life will be held following the internment, hosted by her honorary grandson, Dave Hochstein . Luncheon details will be available at the service.
Memorials donations can be to:
Penrickton Center for Blind Children
26530 Eureka Road Taylor, Mi. 48180
734-946-7500
OR
Nardin Park United Methodist Church
29887 West Eleven Mile Road
Farmington Hills, MI 48336
248-476-8860