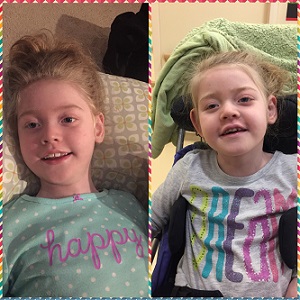 Norah Elizabeth Hambrick
July 20, 2011 - September 10, 2018
With deep sadness, the family of Norah Elizabeth Hambrick announces her passing on September 10, 2018. Norah slipped peacefully from this world at home, in her mother's arms, surrounded by the boundless love of her family and friends.
For seven vibrant years, Norah was a beacon of joy for her blended family and community. She taught us that life is about quality and not quantity and that we need to slow down and cherish each and every day.
Norah will be lovingly remembered by her mother Liz, father Brian, stepmother Cena, stepfather Mark; stepsisters Caitlyn, Makayla, Emily, Skylar, and Kieran; and her dog Buckley. Norah was adored and will be missed by her large family, including her grandparents Chris and Doug, Pat and John, Mitzi and Jim, Linda and Brian; her aunts and uncles Katie and David, Kris, John, Chelsea, Matthew, James and Katie, Jason and Niki; her cousins Mitchell, Cormac, Isaiah, Ethan, Eli, Zaeden, April, Zoey, Dotti, Judeah, Avery, and Jasper; her nannies Nancy, Janel, and Vicki; her teacher Jessica, as well as a vast community who followed Norah's journey from near and far.
Norah's favorite things were snuggles, dancing with daddy, sucking on mama's shoulder, going to school, playing with her sisters and cousins, listening to music, swimming, Sesame Street (especially Elmo), Moana, curly ribbons and beads, hands-on art, and kicking over blocks and nearby food or water with her "happy feet". She loved swinging, being dipped down quickly and brought back up in our arms, and having air blow through her magnificent hair. She was an inspiration to all who met her and lit up the room with her infectious smile and bright blue eyes. Norah developed her own way to communicate that transcended language. With both her amazing range of facial expressions and determined hollers, she always let us know exactly what she wanted. We are so proud of our sweet Norah.
Norah was born with Pontocerebellar Hypoplasia Type 2 (PCH), a rare genetic disorder, and beat the odds to live a full and happy life thanks to the love and care of her family, friends, and caregivers. The family is particularly grateful for Arbor Hospice's pediatric team, led by Dr. Patricia Keefer, who were so important in maximizing Norah's quality of life over the past three years.
Norah's family is hosting a celebration of her life on Saturday, October 20, 2018 at 11:30 a.m. at her school, High Point School, 1735 S. Wagner Rd, Ann Arbor, MI 48106. More information is available at http://allfornorah.blogspot.com/.
Donations in memory of Norah may be made to North Star Reach Camp, 1200 University Camp Drive, Pinckney, MI 48169 https://www.northstarreach.org/support. Norah attended camp there this year and had a wonderful time with her entire blended family.