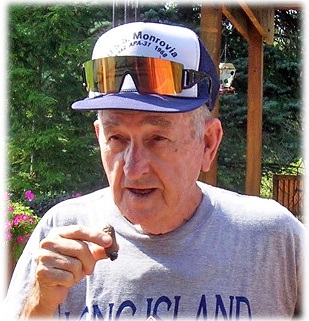 Thomas Crowe
March 5, 1919 - September 29, 2018
Thomas Crowe, age 99, passed away September 29, 2018.
Tom was a proud WWII veteran, serving with the Navy in the South Pacific. He often recalled his time in the service by sharing stories with his family, especially in recent years. He was a member of the Wayne Masonic Lodge #112, F&AM of Michigan, very active in the union, and served as president of the Local 735 for Hydromatics.
A relaxed Tom could be pictured smoking his pipe, reading, taking in more knowledge to start a good conversation with company. As a spectator, he loved all sports in general, but of course cheered for our hometown teams, the Tigers, Lions, Red Wings, and for U of M football. As a participator, he enjoyed golfing and even excelled at it.
Always the showman, he seized any opportunity to sing a song or two, especially for an audience at the VA. This was a somewhat surprising talent that came to be exhibited a bit later in his life. His favorite set list included Frank Sinatra, Perry Como and some songs from Oklahoma!
Tom was quick witted and loved to test the limits. To get a reaction out of someone was the goal and it made his day when it was achieved. A true entertainer, he never minded being the center of attention. Ultimately, he just wanted to have fun and make people laugh. Joking around was unquestionably his favorite pastime.
He cherished the time he spent with his family and looked forward to the winter months where he would head down to New Port Richey, Florida with his wife, Mary. His children and grandchildren meant the world to him. He had such a presence, and everyone truly enjoyed being around him. He will be missed so much, especially by his loving family.
Tom was the beloved husband of the late Mary. Loving dad of Thomas (the late Kathy), Marilynn (Victor) Troutman, Kathy (Daryl) Freeman and the late David (Teresa). Dear grandpa of 10 and great-grandpa of 12. Also survived by his grand-dog Murphy.
Visitation for Tom will be held on Thursday from 2:00 p.m. until 8:00 p.m. at McCabe Funeral Home, 851 N. Canton Center Rd., Canton. His funeral service will take place on Friday at 11:00 a.m. at the funeral home. Interment will follow in Knollwood Cemetery.
In lieu of flowers, please consider donating in Tom's name to Angela Hospice.