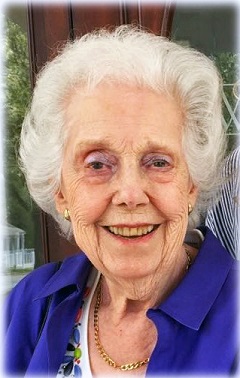 Florence M. McNichol
June 16, 1929 - October 10, 2018
Florence McNichol, age 89, passed away peacefully October 10, 2018, at her home in Novi, Michigan. Beloved wife of the late Lawrence McNichol for 52 years. Loving mother of Kathy (Michael) Lawless, the late Margaret (Sue) McNichol, Debbie (Phil) Clark, the late Kevin (Michele) McNichol, Patty (Jay) Stark, and Anne Marie (Arthur) Schneider. Proud grandmother of 15 and great grandmother of 4. Survived by one sister, Virginia Leone, of Greeley, Colorado.
Flo was born in Chicago, the youngest of Earl and Anne Sexauer's four children. After high school, she studied nursing. While completing her training, she met Larry, a medical student at Loyola University Chicago. They fell in love, married in 1953, and moved to Larry's hometown of Detroit where he did his residency at Mount Carmel Mercy Hospital. Flo gave up her nursing career when Kathy was born, but maintained her interest in medicine and was stalwart in supporting Larry's career. Meanwhile, together they raised their six children in Detroit, and later, Farmington Hills.
Flo loved joining Larry and the kids on picnics at Kensington Park, excursions on their boat on Lake St. Claire, and spending time at their cabin at Canada Creek in Northern Michigan. Flo made several happy trips to Italy, and with Larry, traveled across Europe, and cruised to Alaska and through the Panama Canal. For more than 40 years, she and Larry gathered monthly for cocktails and dinner with their potluck group made up of dear friends they first met when they moved to Detroit together.
Vivacious perfectly describes Flo. Known as "Flo Baby" to her kids, she was loved by all who knew her.
Flo will lie in state Saturday, November 24, 2018, at 10 a.m. until the time of her Funeral Mass at 11 a.m. at St. Fabian Catholic Church, 32200 West 12 Mile Road, Farmington Hills, Michigan. Interment at Holy Sepulchre Cemetery, Southfield.