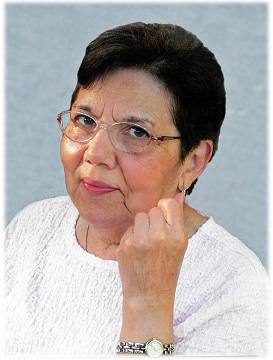 Elva Castillo
April 22, 1935 - October 24, 2018
Elva Castillo, age 83, passed away on the morning of October 24, 2018, surrounded by her devoted and loving family.
Elva was born in Detroit, MI on April 22, 1935. She is survived by her six daughters, Rosann (Juan) Mateo, Debra (Kevin Ryder) Ontiveroz, Margarita Garcia, Sylvia (Andrew) Gesell, Diane (Stewart) Rydman and Judith (Kevin) Grove, eight grandchildren; Jose, Angelina, Michelle, Lauren, Santino, Gabriela, Christiana and Francesca; five great-grandchildren, Michael, Ysabella, Noah, Lilyana and Milian; four great-great grandchildren, Arianna, Jaslene, Ysela and Ismael; her brother, Hector (Trinidad) Hernandez and sister, Thelma (Moises) Martinez. Elva was preceded in death by her parents, Telesforo and Maria Dolores Hernandez; her grandson, Maximilian, and her great-granddaughter, Micaela.
A strong and inspiring woman; Elva raised six daughters, with many years as a single parent, while also being the caregiver to her invalid mother. She cherished spending time with her family, close friends, and spoiling her grandchildren. She played a monumental role in the lives of her family and was the unwavering rock everyone could always depend upon.
Elva lived most of her life in Southwest Detroit and was a graduate of Western High School and a lifelong parishioner of Ste. Anne de Detroit Catholic Church. For the past fifteen years, she lived in Farmington Hills. Her strong work ethic began at the age of 16 when she worked part time after school and lasted until her retirement. Elva often worked two jobs to make ends meet so she could pay the tuition for her daughters to have a Catholic school education. She was a woman whose deep faith shaped her morals, values and sensibilities. She cared about what really mattered in life and naturally put others before herself. She taught her family, mainly by example, many life lessons; the most important being to love one another. She carried love and compassion with her everywhere she went.
Elva loved listening to music, classic country music being her favorite. You would often find a concert date planned on her detailed calendar. She loved reading and kept up with current events. She was a woman of many talents. From making the best homemade Mexican food and baked goods; to sewing clothes for both every day and special occasions, along with knitting or crocheting; to cultivating beautiful flower and vegetable gardens that included many of her favorite, which were roses. Another hobby was watching her beloved Detroit Tigers, preferably with her family members, from Briggs and Tigers Stadium to Comerica Park. Elva loved to travel, and visited many cities in the U.S., as well as Argentina, Brazil, England and Mexico. Visiting the Grand Ole Opry and Ryman Auditorium in Tennessee on multiple occasions, were among her highlights.
Elva will be missed dearly, and her family will cherish the many memories they have with her. Every time we hear a certain song, see a beautiful garden, the color blue, a Tiger baseball game, denim, and the moon; she will be running through our minds.
A Memorial Vigil will be held for Elva on Saturday, November 17th from 3:00 pm to 7:00 pm with a 6:15 pm Rosary Service at McCabe Funeral Home, 31950 W. 12 Mile Road, Farmington Hills, MI 48334.
A Funeral Mass will be held on Sunday, November 18th at 2:00 pm. at Ste. Anne de Detroit Catholic Church, 1000 St Anne Street, Detroit, MI 48216.
In keeping close with her Detroit roots; in lieu of flowers, donations made in Elva's name would be appreciated, sent to Alternatives for Girls, a non-profit organization that empowers girls and young women living in Southwest Detroit. Alternatives For Girls, 903 W. Grand Blvd., Detroit, MI 48208.