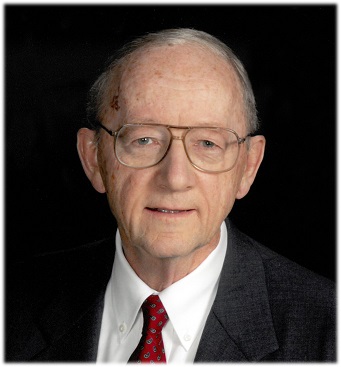 Kenneth E. Myers
January 1, 1932 - November 2, 2018
Kenneth E. Myers, age 86, passed away November 2, 2018.
Ken grew up in Battle Creek and was a proud Army veteran, serving with the Security Agency during the Korean war with assignment in Europe. He graduated from the University of Michigan, playing on their golf team. He received his bachelor's degree in Business Administration and immediately went on to obtain his MBA just one year later. Ken began his business career with the Burroughs Corporation in Detroit and worked there for several years before making his way to William Beaumont Hospital, accepting the position of Controller in 1966. He rose through administrative service as Associate Director and Director of the Hospital in 1969, Executive Vice President and Hospital Director in 1976, and President in 1981. After 30 years of dedication, Ken retired from Beaumont Hospital as Chief Executive Officer.
He is a former member of the Michigan Hospital Association's Board and Executive Committee, serving as Chairman. He is also a former member of the Board of Directors of Voluntary Hospitals of America Enterprises, Inc., along with Beaumont Hospital Board of Trustees. Ken has served on the Board of many other organizations including the Salvation Army, William Tyndale College and Laban Ministries in the Congo.
Aside from Ken's numerous professional achievements, he was a member of Brightmoor Christian Church and Past Commodore of The Old Club on Harsens Island. Personally, Ken was an all-around great guy. Never critical or unforgiving, he only knew how to truly encourage the people who surrounded him. He was a born leader and inspired countless people throughout his lifetime.
He was the beloved husband of Nancy for 62 years. Loving father of Cynthia (Robert Plambeck), Anne (Jim) Holycross, Tom (Mary Ann) and Sue (John) Engebretson. Proud grandfather of Jeff, Megan, Matthew, Sara, Alex, Derek, Jared, BG and Ryan. Dear brother of Janeis Yunt and brother-in-law of Edna.
Visitation for Ken will be held on Thursday from 2:00 p.m. until 8:00 p.m. at McCabe Funeral Home, 31950 W. 12 Mile Rd., Farmington Hills. Visitation will continue Friday at 10:00 a.m. until the time of the funeral service at 11:00 a.m. at Brightmoor Christian Church, Novi. Interment in Fort Custer National Cemetery, Augusta.
Memorial donations in Ken's name are appreciated to Beaumont Health Foundation.