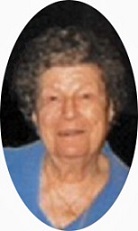 Katherine Peluras Lagos
November 25, 1919 - November 8, 2018
Katherine Peluras Lagos passed away November 8, 2018 at the age 98.
She was the loving wife of the late Christ for 67 years; devoted mother of Lula (late Sam) Abbo, Mary Lagos, and Terrie (George) Stefanakis; caring grandmother of Kathy (Angelo), David, Christa (George), Evanna (Chris), Katherine (George), and Stefan and great grandmother of Liana, Peter, Samie, Anastasia, Peter, Liberty, Georgio, and Georgiana. She also leaves behind many nieces and nephews.
Katherine Peluras Lagos was a woman of great faith, wisdom, and compassion. She was born on November 25, 1919 in Greece in the village of Geraki, Sparta. Being born on the special feast day of St. Katherine is how she was given her name. The youngest of three siblings after Stamatoula and Peter, she grew up without a father. Like many others during the 1920s, her father took a leap of faith and journeyed to the United States to establish himself with the goal of bringing his family to join him. He left when Katherine was only 11 months old. After a decade away from his family, he finally had enough money saved in the bank, to purchase a home, and to send for his family. Sadly, everything was lost overnight in the Great Depression, so he had to start all over. It took another decade of time to reestablish his finances, so consequently, Katherine did not meet her father until she was nineteen years old.
While growing up in Geraki, Katherine was an excellent student. She had aspirations of becoming a teacher, so she intently focused on her studies determined to be a pioneer of her time while most young girls of her generation were expected to be keepers of the home. In 1936, at the age of 17, she achieved her goal after being accepted into the most prestigious academy for teachers in Pireaus, Greece. There she studied to be an elementary school teacher; she finished her degree ahead of most in her class because she took college courses during her senior year of high school. While waiting for a teaching assignment from the government, she was hired by the National Bank of Greece in the foreign currency department. Since she held a higher-education degree and was fluent in the French language, she was the perfect candidate for the position. Unfortunately, all her dreams were shattered when her father finally sent for her and her mother to come to America in the summer of 1939.
Here in Detroit she had to start her life over again. A few short years after arriving to this foreign land, she was introduced to Christ T. Lagos. They were married on June 14, 1942 after only three "dates," yet they harmoniously managed a full life together for over 66 years. They had three daughters: Lula, Mary, and Terrie, two successful restaurants, and were pillars in the Detroit Greek community. Katherine devoted her life to her family and the Church. Never missing a Sunday of worship, she instilled her faith in her children and grandchildren. She also instilled in them strong family values. She encouraged them to be strong, compassionate individuals, and to become educated and independent. Following in her footsteps, all three of her children pursued careers after college, two of whom became teachers like her.
Katherine often volunteered whenever and wherever needed, whether as an interpreter or by driving someone to a doctor's appointment, because she felt it was her civic duty to help others. Even at the age of 92, she enthusiastically joined church members to serve dinner at a homeless shelter in Pontiac. She was truly a pillar of strength to all who knew her; she was wise and well-read with a charismatic wit and sense of humor. Though Katherine suffered her share of many serious illnesses, she always faced her fate with great courage and strength and she never complained.
As her children, grandchildren, and great-grandchildren, we are eternally grateful to our mother and grandmother for her unconditional love, her wisdom, and her compassion. She was a phenomenal woman in so many ways, and we will eternally cherish her memory.
Katherine's visitation will be Tuesday, November 13th, from 5pm-9pm with a 7pm Trisagion at McCabe Funeral Home, 31950 W. 12 Mile Rd., Farmington Hills. She will lie in state Wednesday, November 14th, at 10:30am until the time of her Funeral Service 11am at Holy Cross Greek Orthodox Church, 25225 Middlebelt Rd, Farmington Hills. Burial at Parkview Memorial Cemetery, Livonia. In lieu of flowers, Memorial Contributions may be made to Holy Cross Greek Orthodox Church in her name.