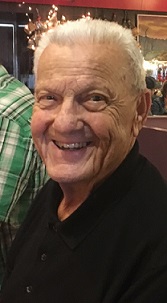 Richard C. Wasko
November 6, 1933 - November 9, 2018
Richard C. Wasko, loving husband, father, grandfather, and great-grandfather passed away on Friday, November 9, 2018, just a few days after his 85th birthday.
Richard (Dick) is survived by his children: Pam (Mike) Murray, Paul (Lori) Wasko, Dennis (Korina) Wasko and Deb (Don) Stoner; grandchildren Christopher (Christine), Matt (Lindy), Michael, Matt, Alexandra, Tyler (Tiffany), Lauren (David), Derek and Kevin; great-grandchildren Brinkman, Strickland, and Shriver; sister-in-law Delphine Zabinski; and many loving nieces and nephews. Dick was predeceased by his wife, Leocadia (Zabinski), his brother Louis and sister-in-law Natalie.
Dick was born and raised in Detroit, Michigan. He was the youngest son of Frank and Helen (Novotny) Wasko. He attended St. John Berchman's grade school where he didn't get along well with the nuns who taught there. Fortunately, he got along much better with the Christian Brothers at De La Salle High School and enjoyed playing football under the coaching skills of his Uncle Tom Bonino. Compared to his older brother Louis who tended to follow "the rules", Dick was the one who pushed the boundaries of curfews and other activities!
While in high school, Dick's father began battling lung cancer so his Uncle John Brabenec took him under his wing and encouraged him to begin a printer apprenticeship program. This encouragement led to a lifelong career as a printer, starting at small printing shops and eventually being hired at the Detroit News. Dick was a proud member of the Detroit Typographical Union 18 and served in union leadership positions. Between working at the downtown Detroit and Sterling Heights printing facilities, he loved downtown Detroit the best because he loved walking on his lunch hour. His favorite spots downtown were Lafayette Coney Island, Anchor Bar, and Lindell A.C. (and not necessarily in that order!).
Although Dick lost his father at a young age, it was his father who identified his future wife. He told his son he needed to meet the cute, blond, petite Polish nurse who was caring for him on the night shift at St. Joseph Mercy Hospital on West Grand Boulevard in Detroit. Little did Dick know that when his co-worker Joe Schierlinger fixed him up with his sister-in-law, she was the cute, blond, petite Polish nurse his father had told him about!
Dick and Leocadia (Lee) were married on September 10, 1955 at St. Florian's in Hamtramck. After a honeymoon in Florida, they moved into the upstairs flat above Richard's mother who was now a widow. After Pamela, Paul, and Dennis were born Dick and Lee bought a home in Warren and moved their family there (including his mother.) Dick's youngest daughter Deb was born a few years later.
Family was important to Dick and Lee so the family spent birthdays, holidays, First Communions, and high school graduations with Dick's brother Louis and his family and Lee's siblings (Ceil, Walter, and Dolores) and their families. That sense of family has survived the loss of the generation that preceded us as we continue to get together with our cousins not only at holidays but also other events.
Dick and Lee were devout Catholics and sent their children to St. Marks' grade school where Dick was active in the Mom and Dad's Club. He coached Little League Football, organized fundraising events, and served as President. After his children completed grade school he became active in De La Salle's Dad's Club where his sons Paul and Dennis attended. Both Dick and Lee valued education and made it possible for all four of their children to attend college and graduate debt free.
Dick's favorite place to vacation was Houghton Lake, Michigan and travelling out west to visit his son Paul and his family. His favorite sports teams were the Detroit Lions, Red Wings, and Tigers (and later Central Michigan University and Michigan State University, his daughters' alma maters). Dick also loved to golf and belonged to a Printer's League, organized an annual golf outing near Gull Lake and even bought a lot on a golf course near Houghton Lake. Unfortunately, he and his wife never achieved their dream of building their retirement home on the lot.
In 2000 Dick and Lee sold the house in Warren and bought a condo in Macomb Township. It was there they enjoyed being close to their friends from the De La Salle Dad's Club; volunteering at their parish, St. John Vianney; and eating out at their favorite restaurants. All was well until Lee was diagnosed with breast cancer. She fought it the best she could for four years. When she knew she was losing the battle, she filled the freezer with homemade soups, spaghetti sauce, and other meals; taught Dick how to do laundry; and showed him how she paid the monthly bills. In turn, he cleaned her wounds, helped her shower and dress, managed her medications, prepared meals, and took over all the household chores. When Hospice arrived, they said they had never seen a husband take such good care of a wife as Dick had done for Lee!
Dick worked hard at beginning a new life after his wife died and did better than his children expected. Three years after she passed, Dick lost his left foot to a MRSA infection. His children almost lost him twice during that medical crisis – once during the amputation surgery and again during an arterial bleed in the stump. Once he pulled through that, he focused on learning how to live without his left foot. After a nine month stay recuperating at his daughter Deb's home, he returned to his home and again did better than expected.
When his children remember their Dad, they will remember his warm, welcoming, outgoing personality; his love for their Mother and the care he provided his Mother during her battle with dementia; his pride in his them and their children's accomplishments; his joy in having great-grandchildren; his fan loyalty to the Detroit Lions and Red Wings; and his strength in overcoming adversity. Dick was the happiest when surrounded by family and friends at holiday celebrations and parties. He will be greatly missed by his children, but they are all comforted knowing he is with their Mom, his parents, his brother and sister-in-law and all those who have gone before him. There is no doubt in the minds of his children and those that knew him that there have been a lot of parties in heaven this past week welcoming him home!
Dick's visitation will be held on Friday, November 16th, from 5 pm to 8 pm at McCabe Funeral Home, 31950 W. Twelve Mile Rd., Farmington Hills. A Funeral Mass will be held on Saturday, November 17th, at 11 am, with an in state time of 10 am at St. Fabian Catholic Church, 32200 W. Twelve Mile Rd. Farmington Hills.
Donations in Dick's name are appreciated to Reverence Home Health & Hospice, St. John Providence Foundations, 19251 Mack Avenue, Suite 102, Grosse Pointe Woods, MI 48236-2881