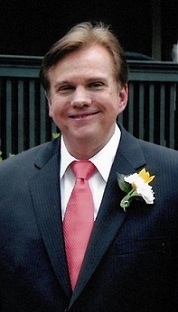 Thomas E. Gale
December 29, 1954 - November 9, 2018
Thomas Edwin Gale, age 63 of West Bloomfield, MI, passed away peacefully at his home with his wife and members of his family by his side on November 9, 2018.
Tom was born in Jamaica, NY on Sunday, December 29, 1954 to Bill and Helen (nee Shelley) Gale, his mother passed in July of 2010, his father survives him.
He married Sevetlana Ostrovsky on August 11, 2000, she passed away on January 30, 2007. Tom then married Judie Nester on April 11, 2009, in a beautiful ceremony in Ashville, North Carolina. Tom and Judie consecrated their marriage at St. Fabian Catholic Church on April 8, 2017.
Other survivors include his four stepchildren; Severina (Mike) Skopets of Washington DC, Alex (Anna) Ostrovsky of Hong Kong, China, Natalie (Dominic) Moscato of Dublin, OH, and Evan Alexander of Columbus, OH; five grandchildren, Salvatore, Giada, Angelo, Milana, and Isaac; a brother, James (Claudia) Gale of Belen, NM; a sister, Shannon (Chad) Matta of Augusta, GA; four brother in laws, Dennis (Carol) Shumaker of Wellington, OH, John (Nancy) Nester of Wapakoneta, OH, Richard (Sylvia) Woerz of Mainville, OH, Linda Nester of Wapakoneta, OH and Brad (Julie) Purdy of Snohomish, WA; and a sister in law, Joan Nester Mchugh of Perrysburg, OH.
Tom has numerous nieces and nephews who love him dearly; Sam (Ann) Matta, Danny (Ashley) Matta, Megan Jarrett, Monique (Aaron) Sherban, Michelle (Tim) Mitchell, Scott Shumaker, Todd (Summer) Shumaker, Dean Shumaker, Sheryl (Chuck) Page, Jeff (Karin) Woerz, Jamie (Justin) Stahler, Sean (Mallory) Nester, Megan (Scott) Williams, Bryan Nester, Wade Purdy, Lindsey (Matt) Bolland, John Gale, Julie Gale, Debbie (Vance) Mitchell, David (Itzel) Gale, Nathan (Daisy) Gale, and Dorothy Gale; a God daughter, Meredith Marie Purdy, whom he loved dearly; and many great nieces and nephews.
Tom was the youngest eagle scout in the United States in 1969 at the age of 14. He attended El Paso Community College in El Paso, TX and later received a BS degree from North Texas State University in Denton, TX in Recreation Management. Tom then trained in IT at Electronic Data Systems EDI Graduate School in Plano, TX. He was once employed by the Tumpane Corporation and was stationed in Saudi Arabia for management. He even worked in Logistics at General Dynamics in Ft. Worth, Texas where the F16 fighter jet was being designed and assembled.
Tom was once the Scout Executive for the Boy Scouts of America in Houston, Texas. He later worked at General Motors, as a manager, developing software applications to be used worldwide. Tom managed the development of the first website at General Motors consisting of large infrastructure projects, along with computer network architecture. He also was employed with Accenture as an executive consultant for General Motors, Boeing, US Post Office, and others.
Tom managed IT projects at Ford automotive in Network Architecture, Manufacturing Automation, Order Entry and others. His work at Ford affected all Ford IT system throughout North America and Europe. He had to retire from Ford due to his failing health in 2017 as Chief IT Architect and Senior Project Manager.
Tom's visitation will be Friday, November 16th, from 2pm-8pm with a 7pm Rosary Service at McCabe Funeral Home, 31950 W. 12 Mile Rd., Farmington Hills. He will lie in state Saturday, November 17th, at 1:30pm followed by his Funeral Mass at 2pm at St. Fabian Catholic Church, 32200 W. 12 Mile Rd., Farmington Hills. Memorial Contributions may be made to St. Fabian Catholic Church in his name.